"Changing Faces – The Very Best Of 10cc and Godley and Creme"
 (Polygram, August 1987)

Dreadlock Holiday/Wall Street Shuffle/Under Your Thumb/Life Is A Minestrone/An Englishman In New York/Art For Art's Sake/Donna/Snack Attack (Single Version)//Cry/The Things We Do For Love/Wedding Bells/I'm Mandy Fly Me/Good Morning Judge/Rubber Bullets/Save A Mountain For Me/I'm Not In Love

"I saw four faces, one man, a brother from the gutter"

The biggest selling 10cc compilation to date comes at an interesting time for the band. Ever since 'Dreadlock Holiday' in 1978 and Eric's car crash of 1979 the band have been largely and unfairly forgotten, overshadowed by all the bands who came afterwards who 'borrowed' their sound and had bigger hits with it. Godley-Creme, though, are now hot property thanks to their work at the forefront of music video production for themselves and others. It speaks volumes that in 1987 Mercury didn't think they could sell a full 10cc compilation, so they piggy-backed on the duo's popularity instead (given that the duo had only released about five singles by this time, they probably couldn't get away with a full compilation album on their own). Commercially of course it was a great idea and in many ways could be considered payback for the faith the record company had shown in the duo, even during the making of 'Consequences'; artistically it's less successful. One of the reasons Godley-Creme left the band was because they couldn't be contained within a straightjacket – and yet hearing this album together reveals how much more basic-minded and simple the pair were on their hit singles than 10cc ever were, with or without them in the band. Good as they are 'Under Your Thumb' and 'Wedding Bells' belong in a different catalog to the one that came up with 'The Wall Street Shuffle' and 'I'm Mandy, Fly Me', songs that work on deeper, weirder levels, while the faster single mix of 'Snack Attack' and 'Save A Mountain For Me' are blooming awful and quite unworthy of sitting alongside gems like 'I'm Not In Love' and 'The Things We Do For Love'. Much better, perhaps to have a side of each but even then with no disrespect to the Godley-Creme half, it would be a very uneven album restricted to singles. What this compilation is crying out to be is a double-album set that contains not just the basic singles (and we mean basic in 10cc's case – there's no 'The Dean and I' 'SSSSSSilly Love' 'Good Morning Judge' or anything post 'Holiday') but enough 'character' tracks as well; the same for the Godley-Creme canon (which is best measured through albums tracks – any compilation that skips 'I Pity Inanimate Objects' and '5 O'Clock In The Morning' in favor of the gospel parodies is really missing the point).

Instead we get both band and spin-off, who were both famously way too cerebral for many record-buyers, stuck through a sausage factory and reduced to the lowest common denominator. It's a crying shame, even if you do get 'Cry' alongside the 10cc hits where it belongs and 'An Englishman In New York' where it truly doesn't belong but is a brave choice all the same. Far more important than the soundtrack, though, are the visuals – this compilation was also released on video with many of the band and duo music videos included on it. The track listings are very different though and frankly the video's is better: we lose 'Snack Attack' 'Mountain' 'Minestrone'  'Art's Sake' and 'Donna' in favor of 'Judge' 'Feel The Love (Oomashooma)' and Godley-Creme's 'Wonderboy' which seems like a bargain to me, even if you do have to put with twelve minutes of unwatchable  nonsense from 'Mondo Video/The History Mix' before you get to 'Cry'. The cover for both projects refers to this, with an outline of each of the quartet's faces drawn in a different color (Kevin is in pink, Eric is in green and I think Graham is in blue and Lol in yellow, though thanks mainly to the beard Kevin's is the easiest to see). I think the idea is that they're all the same person in different shades (while nicking the idea from the already legendary 'Cry' video of morphing faces), but actually what this set does more than ever is reveal the differences between the traditional two halves of the partnership and though the Godley-Creme half can match their old band on occasion (such as 'Cry') they're truly outclassed here compared to 10cc with and without them. If you must buy it, get the video and if you feel you mustn't buy it, split yourself between '10cc's Greatest HIts' and Godley-Creme's 'Images' instead – you can probably pick both up for the same price as this deleted set nowadays anyway.
Wax "American English"
 (RCA, '1987')

American English/In Some Other World/Ready Or Not/Call It Destiny/Bridge To Your Heart//Share The Glory/Alright Tonight/The Promise/Heaven In Her Bed/Bug In The Machine

"You got what you wanted – but did you get what you need?"

Most people's response to Wax's first album 'Magnetic Heaven' was that it had some nice ideas but was all a little bit too loud ('I SAID…IT'S ALL A BIT TOO LOUD!!!') and lacked a little of the 10cc wit and melody. Graham, who had spent so much of his career listening to other people (how much bigger would The Mockingbirds have been if they'd been 'allowed' to record Gouldman's 'For Your Love' as their debut single?), sadly decided not to listen to the comments this second time around and the third Wax album to be made (and the second one to be released) is ever louder, brasher and more synth-filled than the first. The singalong melodies and thoughtful lyrics, which were there in the original albeit rather hidden, have been replaced by a bunch of more rhythmic songs and a production that sounds even more 1980s (I really didn't think that was possible!…) Sharing 'Magnetic Heaven's taste of the extravagant, even the nicest songs sound like they would have fared better from a simpler starker approach. The song themes have taken a notable tumble compared to the last album – this is a bunch of love songs by and large, with less ground covered even than on 'Heaven'. Even Wax's one and only bona fide hit single – the rather uncharacteristic 'Bridge To Your Heart' which is in truth more like 10cc's 'sillier' (sorry, sssssillier) love songs – couldn't stem the tide of feeling as if Wax had already said everything it could possibly say and that there was nowhere to go, with only a very limp third/fourth album to go (until the unreleased debut and the outtakes set a decade later anyway).

There's also even less sign of Graham Gouldman than on the last album, with just one lead vocal this time tucked away at the end. The band have used far more personnel than 'Heaven' too (which was basically cooked up between the pair of them) and which includes a few famous names, including a sea of keyboard geniuses including The Hollies/Moody Blues' Paul Bliss and Paul McCartney's 1989-1993 and 2001-date keyboardist Wix Wickens – Wix being a rather apt addition to Wax! We also get 10cc's old artist Storm Thorgerson back – separate from his Hipgnosis company this time – and his quirky cover is characteristically clever, a collage of all sorts of things 'wax' comes from or is linked to in some way (including turtle-wax, ear-wax, seal(ing) wax and beeswax. I've not heard of 'naked girl with her back to the camera wax' though so maybe not everything was meant to fit that formula.
As with 'Magnetic Heaven', though, there are a couple of places where this record starts working so well you wonder why Messers Gold and Gouldman didn't just go 'right, that's the way forward, more of that!' Neither man tended to use anger that much in their own careers, but together it's often the strongest suit they have going for them and the snarling 'In Some Other World' is exactly what you'd expect from a pairing of a Dog (Graham) and a Rabbit (Andrew) in the Chinese New Year horoscopes, damning everyone with uncaring, unfeeling hearts taking money from those who don't have it. One of Wax's most immediate songs, it's head shoulders knees and toes above anything else on this record. Even though second-best song 'Ready Or Not' is pretty darn smashing too, a poignant song about empty nest syndrome from the parent's point of view that really stands out against wax's other I'm-young-and-trendy-honest-I-am lyrics. Andrew's straining vocal really does feel like an effort for once on a song about being brave and hoping for the best, even if it makes you vulnerable – it's just a shame the rest of this rather sorry record doesn't take its own advice and try something more heartfelt and daring. There is quite a good theme of 'bridges' though which crop up on a few tracks (Wax could have made more of this really) – all of which are metaphors for relationships, some are being burnt, some are being repaired, all of which are in fluctuation as we look at the dynamics between couples and changing fortunes between them. This is sadly one of those albums that has so much going for it but where that doesn't necessarily come out in the end result, with 'American-English' getting slightly lost in translation. Wax are clearly running out of fuel, despite the impressive amount of talent in what is just a two-man band…

The noisy 'American English' is a clever title for the album – Wax were, after all, American and English. It's a less clever song, yet another take on the idea of the 'language of love' being the same in all languages but that sometimes lovers don't understand each other. The 'bah-bah-bah-bah-bah' riff that chimes after almost every single line is also wearisome long before the song ends and sound under-powered even by 1980s standards (digital watches make better music now). Still what other pop song ever dared to include the line 'I want to understand her semantics?' and got away with it?  A minor hit single in the Netherlands. Oddly Yoko's daughter (from her pre-Lennon days) Kyoko guests as a backing vocalist on this one track.

Stacking the better songs together, 'In Some Other World' is a gorgeous cry from the heart and Gold's bitter vocal that 'waxes angry' as it were is a lot more impressive than his 'pop' voice. After a reminder of the Bible, where Jesus hangs out with the poor boys, Gold turns his wrath on the supposedly spiritual religious beings who are really scrabbling for money (he's probably been watching God TV with their continual fundraising!) A second verse does the same with politicians, who say they are working for the people but are usually just in it for themselves.  'Instead of an outcast we made you a King, respect and wealthy!' Gold snarls, before declaring that the 'real' people aren't fooled and find these figures 'guilty!' Listen out for the moment around 3:00 when Gold fluffs his line and apologizes ('Sorry about that!') Though just a random mistake left in to be funny (which happens a few times across this album), in context it says a lot about the missing humanity and humility of those who never admit to ever making mistakes. A most under-rated track which, even with its hideous 1980s coat of many layers, is one of the band's greatest triumphs.

Ditto 'Ready Or Not', which is the only Wax song with a heart so big it might make you cry. Sounding not unlike early 1980s Eric Stewart, Gold bids his off-spring to 'fly away' out of the nest and find their own path in life, scary as it may be. A stunning melody manages to sound warmth and uplifting despite the packed banks of keyboards sounding sterile and cold and of all the tracks to have a synth-panpipe solo, this moving 'real' song wouldn't have been my first choice. Still, Gold's emotional vocal is pretty darn great, as are Graham's subtle backing vocals, while the lyrics are clever and honest without going OTT. The song ends on an unexpected mid-chord note that just kinds of dies away (to the tune of slowing down sleigh bells), as if pausing to wait to see what destiny has in store. Another triumph I could wax poetic about all day if I had the space.

After that 'Call It Destiny' sounds hollow and ordinary. Sounding more like U2, this is a noisy slab of nothing about the narrator trying to 'let the passion out and some freedom in' with his loved one. Good luck with that if this is the best you can do…
'Bridge To Your Heart' is charming, but irritating. A deliberately messed up opening ('1..2..3…Hold it! Right…Now!') leads to the most 10cc ish track on the album, as Gold uses his wacky high-pitched voice to talk about trying to make an ex fall back in love with him and he occasionally introduces the other bits of the song along the way (e.g. 'Horn!' At least I presume that's what the synths were meant to be. Maybe Andrew wanted a cream horn for his tea?!) The chorus is memorable, kind of 'Bridge Over Troubled Water' meets 'Buddy Holly' and that alone sells the song, even though it is pretty flimsy even by wax standards. Fittingly the 'bridge' to this song is one of the best bits too, adding to the tension. Not my choice of being by far the band's greatest known track, but it's kinda sweet and catchier than chicken pox.

The moody 'Share The Glory' is one of the more interesting songs, though it sounds rather unfinished. A sad lament about an ex who 'doesn't even turn around' now his 'usefulness' is over, Gold still can't stop worrying about her and how lonely she must feel, even if she is rich. The lyrics do make you wonder if this track is really about one of Graham's ex music partners, especially given that the 'other' 10cc spin-off duo Godley and Creme had just been enjoying some of their biggest successes with exactly the same sort of pop songs Wax are aiming for here.

'Alright Tonight' is kind of OK, with some nice Gold-Gouldman harmonies (again, why didn't the pair use this blend, which is clearly one of their greatest assets, more often?) and a heartfelt lyric that accepts that while a breakup hurts now it won't forever and life will go on. The 1980s backing is completely wrong for this sweet and timeless song though and the solo has to be heard to be described – it's a guitar-panpipe hybrid backed by a church organ and given added production gimmicks to sound even weirder than that!

'The Promise' is more of a 'traditional' number, complete with synth-flutes that actually sound rather good. I'm willing to bet this is very much a Gouldman song, despite the shared credits on all numbers, as it has a little bit of that 1960s feel so prominent on 'The Graham Gouldman Thing' and a 'bounce' not unlike 'Look Through Any Window'. However the theme of the song is very much that the best time to be alive is anytime – 'from the cradle to the grave, these are the special days' in fact. A sweet song that could have really been something with a less 1980s sell by date.

The busy 'Heaven In Her Bed' is the most overt pop moment on this record and sounds like a Michael Jackson single; you can probably guess that doesn't exactly endear the song to me. Gold doesn't moonwalk but he does sing the track as a duet with Tessa Niles who sounds rather like Janet Jackson. Wax try hard to be sultry and sexy as Gold's narrator boasts about having finally got his dream girl into his bed, but like 10cc before them they aren't really that kind of a band.

'Bug In The Machine' is Graham's only lead vocal on the album and it's another 10cc style track (actually more Godley-Creme funnily enough) about searching for a literal bug in the narrator's answerphone that leads to a 'bug' in his relationship – or at least that's what he assumes because he's perfect and can't have done anything wrong, oh yes he is! A curious vocoder part in the middle is unlistenable, as are the synth drums which are so 1980s it hurts. Literally in terms of my ears.

Overall, then, 'American English' doesn't quite build on the strengths of 'Magnetic Heaven' as much as it might have done, but nor does it throw away completely the moments that made that first album work, to some degree. Once again you have to work at this album to get the best out of it – to see through the production tinsel and onto the meat of the songs underneath it all – and frankly we don't have that much time – not with so many Godley-Creme records out there to track down. This is also a far more uneven set than its predecessor with some really patchy off-putting moments in there as it, erm, 'waxes and wanes', although once again the highs are very high. If you loved the 1980s synth pop sound then, as soon as you've booked an appointment to have your head examined, you may well enjoy this album almost as much as its predecessor.  
Wax "100,000 In Fresh Notes"
 (RCA, '1989')

Anchors Aweigh/Wherever You Are/Railroad To Heaven/He Said She Said/Spell On You/Don't Play That Song/Pictures Of Paris/Maybe/Madeleine/Credit Where Credit's Due

"When I hear it I'm falling apart, it's like a needle in my heart, every time the record starts"

This third/fourth album is a whole different ball of wax (yes that is a saying, just not a common one and I'm running out…) Despite the success of 'Bridge To Your Heart' the two released Wax album's had only made small dents in the chart and RCA weren't willing to put money behind the publicity and marketing for this album. There was also a sense that, by 1989, the mid-1980s sound so integral to Wax's being was becoming passé. So instead this album came out rather quietly only in Europe (the only copies I've ever seen are German, where 10cc were bigger than most places – I'm surprised Japan didn't get a copy too) and Wax quietly split up not long after, Andrew returning to his stuttering solo career (1996's 'Since 1951' album continues the Gouldman co-writes for a while longer though) and Graham bides his time until the call to reunite 10cc in 1992. You can kind of feel as if the wax vision has kind of run out of things to say by now and these 'fresh' notes (the duo reckoned there were about 10,000 notes played per one of their production-heavy albums) sound rather 'used' to me. Graham plays a bigger role this time, including a strong vocal on the record's lead single 'Anchors Aweigh' (a song most famous for its video, which has a caption complaining about the low budget and asking viewers to 'imagine' it instead until it suddenly explodes into full color with Wax dressed up in every music style going!) More consistent than 'American English' without the highs of that LP or 'Magnetic Heaven', it's an overlooked album that's no classic but is arguably as good as the better sellers that came before it even though most fan opinion currently seems to be 'yuk' – we've covered it a bit more in brief here because only about three of you reading this will have heard it – maybe only one of you will care – and I can hear the complaints from anxious Godley-Creme fans wanting me to analyze another ten minutes of Dudley Moore ramblings from here. Anyway, this is another one of those unloved 10cc records desperately deserving a re-issue.

'Anchors Aweigh' is empty, silly fun which is basically a chance for Gold and Gouldman to dress up as sailors in the video and perform the sailor's hornpipe on their synths' panpipe setting. There's a good tune that sounds a lot more substantial than the lyrics, but hey Graham's singing so it's all OK.
'Wherever You Are' would have been a big hit for most people in the 1980s – a glossy torch ballad that was everywhere back then. But not Wax, despite some pretty singing from Andrew and a sequel-of-sorts to 'Ready Or Not' in the lyrics, offering comfort to someone whose left home and is feeling homesick. Though more heartfelt than usual, this song doesn't quite have it's prequel's quiet grace and beauty.

'Railroad To Heaven' is horrible though, a noisy where the drums are so loud your neighbors will complain even if you have the overall volume down low (they will, honest, I've checked!) and there's a funk bass solo of all things. The lyrics are silly metaphors that take The Beatles' 'Drive My Car' and substitute trains for automobiles. 'Going choo choo round my heart' indeed…

'He Said She Said' is one of Wax's most commercial efforts. A pretty use of synth openings sounds like a rip off from Godley-Creme's 'Cry' before Gouldman starts singing (two lead vocals on a Wax record? This can't be happening…) on a track that's a lyrical rip off from his old employers The Hollies' 'On A Carousel'. It's a repeat of 'American English', with two lovers not always understanding each other clearly.

'Spell On You' is cuter than most Wax songs, with a 1960s feel again despite Gold singing lead. Realizing that a friend has fallen in love with him when he has no feelings that way, Gold wonders what he did to cast a magic spell on her and he wonders how to let her down gently without breaking her heart.

When Gouldman first announced that he was working with Gold most people figured that the songs would turn out to be like their more postmodernist works with 10cc together: 'We've Heard It Al before' particularly. 'Don't Play That Song' is the closest the pair came in Wax though, with a song that starts off one way before it gets interrupted by a tearful chorus where Gold asks the DJ to throw that song away – it used to be his and his exes song and it still makes him cry.

'Pictures Of Paris' is a decent stab at something a little different and is the only Wax song that sounds as if it could have come from a different period than the 1980s. A tale of two French lovers meeting before having a row and going their own ways, 'all alone in the city of lights', it features a nice use of an accordion and a clever quick-flowing lyric that's rather more sophisticated than usual ('Gets drunk, heart sunk, watching his dreams as they float down the Seine'). It's a little like Graham's jaunt to 'Sausalito' in 1969, which sounded deeply exotic despite being made in Stockport – and no, sadly, there's no cameo by the 'Un Nuit In Paris' brothel anywhere.

Aww, Gold is feeling lonely on 'Maybe' and turns between sadness, bitterness,  anger and hope, telling us that he's not quite sure what he feels or how deep this is so we shouldn't take it too seriously. Maybe it could be resolved if he calls his lover – maybe that would make things worse; maybe they should part – maybe they should stay. Maybe this song's indecisiveness is a bit overplayed and the lyrics maybe a bit overkill, but the tune is nice. Maybe.

Empty drum and sound effects filled pop more in keeping with 'Magnetic Heaven', 'Madeleine' is a third Gouldman vocal which starts with an indecipherable vocodered lyric and turns into a remake of Graham's own 'Pamela Pamela'. It's all rather sweet, as Graham promises to build his world around his new love, but like many a Wax song the rather promising and timeless main ingredient is buried underneath a shocking recipe of 1980s effects and even a brief rapping section that's pure torture.

Listen up! 'Credit Where Credit's Due' continues the trend with a whole rap song that simply speaks about everybody credited on the record. It's funny, once, but not exactly made for repeated listening and doesn't feature Andrew or Graham at all really bar a brief spoken part but 'Mr Magic OBE' the rapstar (best known today for his appearance in the Grand Theft City Auto' game). This is so wrong it's right, if that makes sense, with Wax using their last track together to completely blow their image in true 10cc fashion. C'mon everybody sing along: 'We got Graham Gouldman, he coulda fooled 'em…Andrew Gold's got lots of soul….come on home boys, lets' do this!' Listen out for manager Harvey Lisberg, who'd been with Graham since the 1960s, deadpanning how to spell his surname and his dreaded oft-heard line 'this is a fantastic groove…but we've already gone overbudget!'

Overall, then, business as usual but to a much smaller market and it's the experiments away from the tried and tested Wax sound that stand out the most, good and bad. This could have been the start for a new life for the band, especially the sparser sweeter songs, but nothing on this album quite adds up to the peaks of past albums and you can tell that the album budget has taken a hit with nothing sounding quite as high-tech and productiony as before. I've no idea why this album was quite so slated as it was though – nothing here is bad (not like the worst songs on 'American English' anyway) and – like everything Wax – it does kinda glue itself to your ears. wax will be back, sort of, in 1998 via 1984. 
"Alive: The Classic Hits Tour" aka "Live In Concert"
(**, Recorded 1992, Released June 2002)
The Wall Street Shuffle/I'm Mandy Fly Me/Good Morning Judge/Welcome To Paradise/The Night The Stars Didn't Show/Dreadlock Holiday/Shine A Little Light In The Dark/Feel The Benefit//I'm Not In Love/The Things We Do For Love/Across The Universe/Art For Art's Sake/Paperback Writer/Slow Down/Rubber Bullets-SSSSSilly Love-Life Is A Minestrone
Note: this the track listing for the later 'Live In Concert' album released in two separate volumes. Several other CDs have released different highlights on one disc under different names
"If the chance came would you take it? Where on earth do I begin?…"
If the joy behind 10cc couldn't be recaptured in the studio it certainly couldn't be recaptured on tour even though Eric and Graham did the sensible thing and reunited with part-time members Paul Burgess (1977-1980) and Rick Fenn (1978-1980) and played only in Japan where love for the band was so big it helped them escape the critical eye of the rest of the world. What could be hidden from view on a studio album however (the sheer misery of having to come back and make an album when you didn't want to – 'Meanwhile…' was to fulfil a record contract and nothing more) can't be hidden on stage and you can tell at times just how fed up the band really are. The band don't even bother to play many songs off the album they're meant to be plugging, with a terrible 'Welcome To Paradise' but thankfully a much improved 'The Night The Stars Didn't Show' (with Eric singing lead, not Kevin as per the record – the song suits his voice better) and a fiery 'Shine A Light In The Dark', which is the best thing here by a country mile for the second 10cc release running. Otherwise this is a greatest hits album played through a faulty karaoke machine that's gone a bit wonky, with a couple of exceptions. About the only band bigger than 10cc in Japan in 1992 were The Beatles and 10cc pay belated tribute to John Lennon here, following tribute song 'The Night The Stars Didn't Show' with a mournful 'Across The Universe' sung by Graham which almost works, a fun and aggressive 'Slow Down', the Larry Williams cover The Beatles made famous (at least in America who actually got to hear the thing until after the 1960s were over) and a horrific reggae-fied 'Paperback Writer' which sounds like a slap in the face.
Elsewhere the new arrangement of 'Art For Art's Sake' with pinging synthesisers and Graham singing lead for a change is atmospheric and very Pink Floydian and 'I'm Not In Love' sounds especially gorgeous. However 'The Things We Do For Love' and 'Dreadlock Holiday' are both flimsy and weak, yet another run through 'Feel The Benefit' knocks even more minutes off your life you'll want back and the closing medley, which throws a lot of Godley-Creme songs together just so people who went to the gig can say they heard them, is more grudging throwaway than the tribute to absent friends it might have been (for the record Eric and Graham sing 'Rubber Bullets' 'Minestrone' and 'SSSSSSilly Love' together, through audibly gritted teeth, although it's perhaps odd they don't do 'The Dean and I' too). Re-released a million times it seems, under a million names (it was originally a single CD titled 'Alive: The Classic Hits Tour' to go with an equally uninspired DVD, then the double CD set 'Live In Concert Volumes 1 and 2' and then re-issued again as a single CD titled 'Alive' – there may well be more out there, but life was too short to track them all down when I still had so many 10cc spin-offs to find…All the titles are rubbish anyway, so that should give you a clue). The collector's gene in me makes me tell you that the middle, most 'complete' version is clearly the one to own – especially as the others skip a few of the better songs such as 'Shine A Light In The Dark and 'Slow Down'. However the fan in me makes me tell you that you really, really don't need this album unless you're very very understanding or find it very very cheap.
"The Best Of The Early Years"
(Music Club, '1993')
Rubber Bullets/Wall Street Shuffle/Waterfall/Headline Hustler/Somewhere In Hollywood/Donna/Ships Don't Just Disappear In The Night (Do They?!?!?)/Fresh Air For My Mama/Johnny Don't Do It!/SSSSSSSilly Love/Sand In My Face/Speed Kills/The Hospital Song/The Dean and I/Old Wild Men/The Worst Band In The Run/Hot Sun Rock/Bee In My Bonnet/4% Of Something/Clockwork Creep
"Four percent of something is better than ten percent of nothing blues, I don't like the way you work but what can I do?"
One of the problems with 10cc compilations is that they tend to be a tad uneven – the band released two studio records on the UK label and a further six on Mercury in Europe/Warner Brothers in the States (plus one purely on Warner Brothers), so naturally most of the compilations tend to license songs out from the Mercury period which included the #1 hits 'I'm Not In Love' and 'Dreadlock Holiday', perhaps licensing the 'other' #1 hit 'Rubber Bullets' and #2 hit 'Donna' if they're in a generous mood. However there's a lot of great stuff on the UK label that tends to get overlooked by casual music followers; indeed most fans consider the second record on that label 'Sheet Music' to be both the best and the most 10cc-ish record the band ever made. So thank goodness there's a compilation like this one which includes all ten songs from the debut LP and six from 'Sheet Music' (the missing tracks are 'Hotel' 'Baron Samedi' 'Oh Effendi!' and 'The Sacro-Iliac', which are to be fair amongst the weaker on that album) plus four period B-sides (you're missing '18 Carat Man Of Means', which is a shame and 'Gizmo My Way', which is a blessing). Not a bad set then, with several of the greatest unsung moments in the 10cc canon including glorious hard-firing single 'Rubber Bullets', Vincent Prince-loving horror movie delight 'Ships Don't Just Disappear In The Night', the beautiful epic 'Somewhere In Hollywood' and the exquisite B-side 'Waterfall', all of which are ripe for rediscovery. However, why is this is a best of? Music Club only needed to add another six songs to this set and it would have been a complete set of the early years (admittedly it would have gone over onto a second disc but, trust me, collectors pay extra to get things complete – just ask my despairing mother, my bank manager and my shrinking house space). Plus, like all these compilations, some of these songs are 'earlier' than others – so why are they in such a jumbled order when the 'real' one works perfectly fine? Terrific, but it could have been even better – in fact it was if you were patient enough to wait until 2004 when UK Recordings did things properly. If you get the choice, skip this set and get either that or the two albums separately for a little more money – you get the B-sides as bonus tracks then.
Godley and Creme "Images"
(Polygram, '1993')
Cry/My Body The Car/An Englishman IN New York/The Party/Under Your Thumb/I Pity Inanimate Objects/Wedding Bells/Out In The Cold/A Little Piece Of Heaven/Save A Mountain For Me/Get Well Soon/Wide Boy/Lost Weekend/Submarine/Power Behind The Throne/Bits Of Blue Sky
"Sculptures that seem to be moving but aren't, I feel sorry for them all"
The only full-length Godley-Creme compilation released to date, 'Images' is an excellent introduction to the duo for casual 10cc fans who aren't quite sure if they can stomach (or afford) all three LPs of 'Consequences' just yet. In practical terms all the hits are there: 'Cry' 'Wedding Bells' 'Under Your Thumb' and a single edit of 'An Englishman In New York' (the longer album cut is much better mind), even lesser hits 'Save A Mountain For Me' and 'Wide Boy'. It's a crying shame that 'Golden Boy' is the only one missing though – you make me want to cry, Polygram! The album tracks are more of a mixed bunch: full marks for including career highlights 'Lost Weekend' 'I Pity Inanimate Objects' 'Get Well Soon' 'My Body The Car' and 'Out In The Cold', but equally for every gem here there's another one missing: where are the celebrated fan favourites '5 O'Clock In The Morning' 'Freeze Frame' 'Ready For Ralph' and '10,000 Angels'? Why nothing at all from second album 'L' (not even that album's minor hit single 'Sandwiches Of You'). Some of the inclusions seems to have been made completely at random: seven precious minutes are taken up by the still not-funny 'The Party' (at least when it appeared on 'Ismism' it was at the end of the album so you could skip it – here it's in the middle!') and why on earth include the 'sampler' B-side 'Bits Of Blue Sky' advertising songs which, both back in 1993 and now, are impossible to find on the parent LP? As for the running order, it makes no sense starting with a single that needs to come after a slow build (like 'Cry' did when it appeared at the end of 'History Mix') and ending with a sampler that leaves you waiting for the duo to kick back in again because it doesn't sound like an 'end'.
At least though Polygram seem to 'understand' Godley-Creme better than most: though it could be better this is still a pretty good mixture of the pair's commercial and original (ie 'bonkers') sides and as a fan who even sat through all of Consequences, twice, this is a pretty good ear-opener to what the rest of the catalogue sounds like, heard going and impenetrable and easy-going and beautiful alike. Even the title, though 'Images' isn't really a common Godley-Creme word to use, is apt and fits the idea of the pair as writing 'symphonies for the deaf' as well as their music video work (which is hinted at in the film stills featured on the cover, which would make more sense if the music used in the videos they were taken from actually on the album too!) In a summation of the whole thing there are some nice sleevenotes included too but these are way too short and skip over most of the interesting bits. Pretty good for the moment, but you sense the ultimate Godley-Creme compilation has yet to come.
"Food For Thought"
(Spectrum, '1993')
Life Is A Minestrone/Don't Hang Up/Good Morning Judge/Last Night/One-Two-Five/We've Heard It All Before/24 Hours/Dreadlock Holiday/Rock 'n' Roll Lullaby/Take These Chains/The Power Of Love/Survivor/Feel The Love/Food For Thought
"The rhythm's so strong and the music is playing so loud!"
A truly oddball compilation to catch in on the hoped-for success of 'Meanwhile…' this one, which stands out amongst the sea of endless 10cc compilations by being as strangely out of step with what people were expecting as the parent album. This is the only 10cc compilation not to feature 'I'm Not in Love' or 'Rubber Bullets', with 'Dreadlock Holiday' the only number one here. As if leaving the number ones out wasn't weird enough, there isn't even an 'I'm Mandy Fly Me' or a 'Things We Do For Love'. No, instead we get the overlooked but still big singles 'Life Is A Minestrone' and 'Good Morning Judge' surrounded by flop singles like 'We've Heard It All Before' 'One-Two-Five' and 'Feel The Love (Oomaschasooma)'. Finally we get a compilation that rates the final few albums as much as the earlier ones and several of the best songs on the set come from the 1980s: the sweet 'Survivor', the epic '24 Hours' and the poppy title track. They're not quite as essential here as they once were when 'Ten Out Of Ten' and 'Windows Of The Jungle' were still awol on CD, but they're still amongst the best things here. It's nice to see a couple of the better overlooked songs from the Godley-Creme era too, such as 'Rock and Roll Lullaby' and 'Don't Hang Up'. Hearing the two sides jumbled up with the famous hits in there too is one heck of a jumble, though, offering not so much food for thought as indigestion.
"Wax Works"
(**, October 1996)
American English/In Some Other World/Ready Or Not/Call It Destiny/Bridge To Your Heart/The Promise/Heaven In Your Bed/Bug In The Machine/Right Between The Eyes/Wherever You Are/Spell On You/Don't Play That Song/Railroad To Heaven/He Said She Said/Shadow Of Love/Marie Claire/Systematic/Lonely Boy
"I hope it'll find its way to you, wherever you are"
With 10cc apparently dead Graham Gouldman went back to resurrecting his second career, teaming up with Andrew Gold to release two collections of old works and finally release the intended 'debut' album that had never quite made it. 'Wax Works' sports a great title (the world really didn't need a compilation from a band who only ever finished two LPs, but I'll let them off so that they can use the name!) and a fine cover, but in terms of material it's far inferior to the lesser-named 'Wax Files'. Not quite all the songs are here, with two missing from both 'Magnetic Heaven' and 'Bridge To Your Heart' apiece, while weirdly the songs are included out of order so that the latter album comes first. You'd expect compilations to only include the top-notch songs but sadly a lot of typical Wax ear-fluff gets in here too such as 'Bug In The Machine' and 'He Said She Said' that you'll never remember how they go again. However the top trilogy of Wax songs are present and correct with 'Marie Claire' 'In Some Other World' and 'Ready Or Not' right up there with Graham's most affecting and moving works. Collectors also get Andrew's pre-Wax hit single 'Lonely Boy' as an extra, though sadly none of Graham's solo songs are here to balance the set up a bit. I'd still get the other Wax set though or better still the main two actual albums.
"The Wax Files"
(CNR Music, '1997')
Right Between The Eyes/Shadows Of Love/Under Her Spell/Baby's Got A Gun/Wherever You Are/Bridge To Your Heart/American English/Ball and Chain/Claire and Johnny/Same Boat Now/Can Anybody See You?/Touch and Go/Maybe/Don't Play That Song/Holiday/One More Heartache/Thankyou For Being A Friend
"You battered my defenses, what could I do?"
Ten years on and Graham and Andrew were getting nostalgic for the band they'd left behind. With only three albums to choose from and just one hit, 'Wax Files' doesn't exactly seem a record the universe was crying out for, but this is a pretty handy way of getting hold of (most of) the better tracks from all three Wax works, including the rare third album '100,000 In Fresh Notes'. More comprehensive than 'Wax Works' but less sensibly picked, this set still manages to skip the truly best moments like 'Marie Claire' 'Systematic' 'In Some Other World' and 'Ready Or Not' but does at least include the first appearance of such fluff as a Wax live recording of Andrew Gold's best hit 'Thankyou For Being A Friend' and previews a couple of songs from the then-unreleased 1984 'Common Knowledge' debut. Like the band's main album this compilation has so many bright ideas and nearly gets things right, but includes a few too many mistakes (such as fan-teasing 'Claire and Johnny' and the clunky title track of 'American English') to be truly vital. At least it sets the band's sound out 'on wax' (to revive an idiom nobody has used in decades), but to be honest I'd stick with 'Magnetic Heaven' before you start messing around with compilation hell.
"The Very Best Of 10cc"
(Virgin/EMI, August 1998)
Donna/Rubber Bullets/The Dean and I/Wall Street Shuffle/Silly Love/Life Is A Ministrone/Une Nuit En Paris/I'm Not In Love/Art For Art's Sake/I'm Mandly Fly Me/The Things We Do For Love/Good Morning Judge/Dreadlock Holiday/People In Love/Under Your Thumb/Wedding Bells/Cry/Neanderthal Man
"Ooh you know I never felt this way before, ooh the elevator in my heart has gone a-wol!"
Every band, more or less, ends up with a 'standard' best-of that comes to define them and which ends up being replicated for every future compilation too. 10cc took longer to find theirs than most, thanks partly to the 'split' in their catalogue between record labels (which was easier to navigate by the 1990s when only about three different companies owned ever record label anyway), partly the fact that the early CDs just didn't get their act together but mainly because 10cc were just too big to fit on a single disc anything. For better or worse this is the best-selling 10cc album even though in many ways it's the least 10cc album – it's the 'vanilla' easy choice selection with a plain white background and the band logo (the 1990s band logo that is) and no album tracks at all (though flop single 'People In Love' is a surprise choice). Longer and therefore better than '100cc' et al, it does at least have the decency to feature these songs in the right order, running from 'Donna' through to 'Dreadlock Holiday' with the three biggest Godley-Creme hits tacked onto the end where they should be (instead of letting the duo take over half an album as they had with 'Changing Faces'). A shame that 'Neanderthal Man' is at the end rather than the beginning though, given how everything else on this album 'evolved' from that one small moment. This set ticks all the boxes, yet it still feels like it lacks something and the uninitiated probably still has no idea what the band are really like even after getting to know it – for that you need a sprinkling of album tracks and for that reason the later 'Greatest Hits and More' (2006) is probably superior as a beginner's guide.
"The Singles"
Life Is A Minestrone/I'm Not In Love/Art For Art's Sake/I'm Mandy Fly Me/The Things We Do For Love/People In Love/Good Morning Judge/5 O'Clock In The Morning/The Wall Street Shuffle/Dreadlock Holiday/For You and I
"Signing cheques to ward off double penumonias"
You'd have thought this compilation would have been straightforward wouldn't you? I mean where can you go wrong with a compilation of an artist's singles catalogue? Well all is not quite as it appears. There are holes – gaping holes – from the UK Recordings catalogue which cost too much for Mercury to get hold of (so no 'Donna' 'Rubber Bullets' and 'The Dean and I') and, inevitably, nothing from the under-rated end period (so no '24 Hours' 'Feel The Love' 'Don't Turn Me Away' 'Power Of Love' etc). However we do get two oddities: a live version of 'The Wall Street Shuffle' as taken from 'Live and Let Live' (even though it wasn't a single) and one token song from the Godley-Creme catalogue seemingly at random ('5 O'Clock In The Morning' was a single but never made the charts whereas many of the duo's later records on Mercury like 'Wedding Bells' and 'Under My Thumb' did). Note also that because this is a singles set you get the singles mix – which means a depressingly early fade on 'I'm Not In Love' for those who are used to the nearly six minute album version and a slightly curtailed opening to 'Art For Art's Sake'. Like many of these sort of sets the joy comes from hearing less familiar songs in there – 'People In Love' was too ordinary a track to be a hit when picked as the third single from 'Deceptive Bends' in 1977 but it sounds good in context, while the under-rated 'For You and I' – a surprise flop in the wake of 'Dreadlock Holiday' even though the two songs couldn't be more different – makes for a worthy closer. But of course that shouldn't be the end – at just eleven tracks there's a good half hour that could have mopped up every single on the Mercury label through to 1983! In other words, not 'The Singles', but 'Some Singles We Have The Rights To Even Though We're Missing Many Of The Important Songs And We Kind Of Got Bored At The End'. Which isn't as catchy I agree, but is a lot more accurate. If life is a minestrone, this compilation is a cup-a-soup: unfulfilling and missing plenty of substance, but at least it's cheap.
Wax "commonknowledge.com"
(For Your Love, August 1998)
Shanghai Moon/Sometimes/First Time In Love/Victoria/Don't Break My Heart/Let's Have Some Lunch Sometime/The King Of Showbiz/Holiday/Big Brother/Separate Limos/All Over You/J B In Arabia/One More Heartache/Big Fat Baby/Heartbeat To HeartbeatDownload Bonus Tracks: Under Her Spell/Baby's Got A Gun/Claire and Johnny/Can Anybody See You?/Touch and Go/Thankyou For Being A Friend (Live)
"Sometimes I can't tell where from when"
Halfway between an outtakes set and a new release, we weren't quite sure whereabouts to put 'commonknowledge.com', which straddles 1983-84 and 1998 like a time traveller on a pogo stick. The 'main course' of this record comes from the older period when Andrew and Graham first decided to start working together under the 'Common Knowledge' name, with 'wax' still something you went to the doctor about rather than your record dealer. More primitive than the full-on synth-fests to come, you can see why the record was abandoned as hastily as it was (following the failure of first two band singles 'Don't Break My Heart' under the name 'World In Action' and 'Victoria', their 'common' debut, both of which were on the intended album too). Back in the mid-1980s this blend of 60s Gouldman pop and late 1970s Gold streetwise knowhow was never going to stand out, even if this album does sound much more like what collectors of both men's earlier works may have been expecting. The good news is that, while still a little dated, this album is nowhere near to being as fixed in time as the three Wax records to come so to modern ears who didn't have to live through the 1980s bombast the first time round this one 'sounds' the best. Unfortunately, though, we have the opposite problem to 'Magnetic Heaven' – everything sounds really good, but it's not really of any substance at all. Considering that both men were writing after career peaks (Graham's input on 'Ten Out Of Ten' and Andrew's on the 1980 album 'Heatwave', arguably his most lasting work) it's a bit of a surprise how badly they've fallen on this album. You can tell as well that both men are desperate to lose their 'funnyman' straight jackets which they've both been wearing since getting 'lucky' with comedy singles that only really show off part of their character. Rather than being 'common knowledge', this album would actually have been highly revealing had it come out at the time – rather than confusing everybody, which is what happened with the Wax LPs. It would perhaps have made a stronger debut back in 1984, with 'Magnetic Heaven' then moving the signature sound on – this record makes some kind of sense as the stepping stone between the Gold/10cc worlds and Wax.
Is this glorified bootleg worth rescuing for later ears though? Well, not really unless you're a super fan. We may have been rude about the 1980s production kitchen sink on 'Magnetic Heaven' and 'American English', but at least it had a sound that was quite distintctive. 'Common Knowledge' has melodies a plenty and the odd good lyrical ideas but it just doesn't have a clue what to about them, with Andrew and Graham reaching out for common ground and ending up in sub-par 1950s nostalgia territory (funnily enough this is where 10cc nearly ended up after 'Donna' became a hit, before sequel 'Johnny Don't Do It' spurred the band on to doing something else) rather than 1980s pop star. Unusually Gold still gets all the big moments, with Gouldman getting only his customary one-and-a-half lead vocals (though as usual all songs are credited to both) even though Graham was arguably the bigger star still at this point in time. The only 10ccish song on the whole set is 'Holiday', which would come with a plagiarism suit from the writers of 'Dreadlock Holiday' had one of them not been Graham. Not that anything on the album is truly awful (everything here is better than almost half of the better received 'American English' album), but despite featuring the sparse, underplayed, simple production style we pleaded for in our past reviews this is actually worse (a reviewer is never happy!) First released in download-only from Andrew Gold's website (hence the '.com' bit, which would have been gibberish in 1984 when it was due out; why would someone have just bitten a com? And is it like an umbopo?!), like outtakes set 'Bikini Wax' to come, you do wonder whether both projects should perhaps have stayed there instead of coming out on CD as these sets are more interesting to passionate rampant Wax fans than the casual listening public.
As for the three new songs included as the opening three tracks on the album and recorded in Andrew's home studio, it's interesting that despite the 14 year age difference (when music moved on apace like no other time since the 1950-60s; there's a world of difference between new wave romantics and the end of Britpop!) the songs sound more or less the same – slightly under-powered technologywise, slightly tentative singing wise and almost onto something good that never quite happens ideas-wise. It's as if the duo had planned to make a whole album and realised they'd already recorded it and got their old copy of 'Common Knowledge' out instead and thought 'yep, that'll do!'
At five minutes opener 'Shanghai Moon' feels like one of the more substantial songs here, with some groovy backwards guitar and psychedelic vocal effects making this track sound quite different to usual. Sadly the synth drums have come along for the ride too and get in the way of what could have been a pleasing song about a man being out of his depth in a foreign land. Which is pretty much what the future Wax sound like here to be honest.
'Sometimes' is an early try out for 'Maybe' but with Graham on lead and a lyric more about moving one step forward and two back rather than being not sure on where you're going. Graham sounds unusually sad and bitter here, perhaps lamenting his commercial progress since Eric's car crash dented 10cc's career so badly in 1979.
'First Time In Love' has a nice blend between Gold and Gouldman as they try to remember what it felt like the first time they fell in love and they get soppy and nostalgic, figuring 'it's the best time of all'.  
You can see why 'Victoria' was picked as the single – it's very 1984 and sounds like a Madonna B-side with a low-key synth-ballad backing – but also why it flopped because it just isn't distinctive enough: the song floats along with blurred edges really, which only works in singles if you have an established enough fanbase and 'Common Knowledge' are still newboys at this. As for Victoria herself, she's been a naughty girl and broke Gold's earnest narrator's trust a second time.
I prefer the 'World In Action' debut 'Don't Break My Heart', even if it sounds naggingly like something by somebody else (and when my memories seem to be filtered down to Mud and Showaddywaddy that's not exactly a good thing). It's a daft but sweet song pleading for a second chance again, like the last song, making you wonder whether the boys in Wax already figured they'd need them.
The jazzy 'Let's Have Lunch Sometime' is at least a little different. As in it sounds like a track no one in their right minds would ever make. 'No sweat' sighs Gouldman as Gold tries ever so hard to a) impress a young girl he fancies and b) tries not to be outdone by the jazz-synth which is moon-walking all the rest of the song. At least it's the most memorable song on the album by a mile – and it would surely have been a big hit at Eurovision in 1984 – but neither of those things are necessarily good.
'The King Of Showbiz' is perhaps the best moment on the original album, a postmodernist song about how the pair envision their new career – they know what big success is like and they don't necessarily want that again, but some love and affection from someone would be nice. The heavy pop synth backing is perhaps the most Wax-like here too, making it clearer why the two musicians went in this direction.
'Holiday' though is wretched – as patronising as the 10cc song of the same name (from 1974's 'Sheet Music') and even more patronising than 'Dreadlock Holiday' but with less wit and panache, this is another tale of the narrator being out of his depth that sounds as if it was written in five minutes in the back of the car on the way to said holiday.
The scary 'Big Brother' adds even more synths and ends up sounding not unlike late-period Abba. The song is more about being pursued by a partner the narrator doesn't love anymore than a totalitarian society, unfortunately. There are many songs that take inspiration from George Orwell's ideas, but some are more equal than others…
'Separate Limos' might well tell about the end of 10cc, especially as Graham is singing lead again for part of it. The song is less about rows with Godley, Creme and Stewart though than trying to remember why the band came together in the first place: Graham remembers them all as 'bad boys at school trying to look cool' but at the same time they were all too nice and conscientious to be a true rockstar in the traditional way. That bond got lost in there somewhere though. An interesting song, although perhaps not as interesting as this description as a 'psychological profile of a decaying AAA band from the inside with synths' would make it sound.
'All Over You' features the best riff on the album and you can see how this might have tilted sidewise into 'Ball and Chain'. Graham sounds great on lead with Andrew singing in a 'round' behind him, while both lyrics and tune recall 'Don't Ask', one of the better late-period Gouldman songs for 10cc, about a relationship that's fallen apart and left him on his own. The synths sound a bit stronger and louder here too, as if someone's remembered to put an extra 50p in the meter. Not bad, perhaps the second best song on the album.
'J.B. In Arabia' is a mystery, with Graham singing in his 'bass' comedy voice the tale of a man on the run from who knows what. In both voice and effect he sounds not unlike old partner Kevin Godley, while the unnerving synth recalls 'Under Your Thumb'. The identity of the character though remains a mystery: photographer Joel Bernstein? Formula one driver Jenson Button? Comedian Jack Black? Pop muppet Justin Bieber?!? JB Hifi, Australia's biggest audio equipment retailer?!? All seem unlikely, though if the latter want to throw in a free amplifier for the AAA offices then yes, obviously, the song's clearly about them. Released as the B-side of 'Don't Break My Heart'.
'One More Heartache' does unspeakabale things to the Motown catalogue, taking a relatively obscure Smokey Robinson song and making it sound not cool calm and 60s but mad, bad and 80s. Andrew Gold sounds like he's singing through a megaphone while locked in a cupboard.
'Big Fat Baby' was the low key B-side of 'Victoria' and consists of a hammer horror riff (not unlike 'Ships Don't Just Disappear In The Night') and a lyric best described as 'brave yet foolhardy'. Our advice is don't try using either 'big fat baby' or 'jumbo honey' as your next chat up line. Some of these songs are downright brutal aren't they? We would have told the band but they had wax in their ears.
Finally 'Heartbeat To Heartbeat' wasn't submitted as part of the 'original' album but was recorded at the sessions so has been dusted off for use here. It's a noisy rocker about coming home after a long day and being together a long time apart that at least has a lot more assertiveness and energy than the rest of the tracks here, if not originality.
The downloadable version of the album comes with an additional six tracks, of which the surprisingly calm 'Baby's Got A Gun' about being in love with a psychopathic killer somehow manages to be quite sweet, the sensitive ballad with a decent tune 'Can Anybody See You?' and the 10ccish fan tribute/putdown 'Johnny and Claire' where the same autograph hunters seem to be at every stage door (warning though: contains an Andrew Gold rap!) As for the main album, it's occasionally intriguing so you can see where the band came from, in a kind of 'Hotlegs' type way, but even finished, as-good-as-it-gets Wax can be hard going so the outtakes are only really recommended to major fans. To be honest had this album come out as the 'proper' debut it's a bit wishy-washy and ordinary; Common Knowledge would have had about as much chance of breaking through as a wax cat in hell (and yes that is a real idiom!)
"10cc"
(Mercury, '1998')
Dreadlock Holiday/The Things We Do For Love/I'm Mandy Fly Me/I'm Not In Love/Good Morning Judge/Channel Swimmer/I'm So Laid Back I'm Laid Out/Good News/Reds In My Bed/Honeymoon With B Troop/Don't Squeeze Me Like Toothpaste/Blackmail/I Wanna Rule The World!!!/Marriage Bureau Rendezvous/Hot To Trot/For You and I/Nothing Can Move Me/People In Love
"I laugh through the pain and agony as they cut me away to be born again into humanity"
A useful – and cheap! – alternative to buying the later box set or the full set of albums, this is the best means of buying most of the Mercury B-sides on CD for collectors on a budget (though be warned these B-sides end when Godley and Creme leave the band and there's no 'Get It While You Can' here either for some odd reason). It's good to see tracks like 'Channel Swimmer' and 'Good News' get a fair airing after so many years in analogue limbo, but at the same time that's about all this set has going for it. You can tell that this set has been made on the cheap: there's no real title to speak of, the front cover is a most unflattering collection of 10cc 'heads' which are a jumble of close-up and far away (Lol looks particularly scary being that much closer to the camera than the others) and the running order is a jumble. The set doesn't work particularly well for newcomers  (with 'Art For Art's Sake' missing from the unbroken run of singles up to 1978) and sadly misses out a chance to reward fans willing to dig a bit deeper, with nothing from the under-rated 'Look Hear' 'Ten Out Of Ten' or 'Windows In The Jungle' album here (not even the singles). Be warned too that Mercury didn't even try to liaise with UK Records this time around, so there's no sign of the earlier hit records like 'Rubber Bullets' 'Donna' 'The Dean and I' or 'The Wall Street Shuffle'. If you're tired of the usual tracks on 10cc compilations and don't know if you want to buy the albums yet, though, this set has its moments with a particularly large selection from the 'Deceptive Bends' album works ok as a sampler for the Mercury catalogue. 
Graham Gouldman "And Another Thing"
 (Dome Records, '2000')
You Stole My Love/Walking With Angels/Dancing Days/Just Another Day/Sometimes/There Was A Day/Heart Full Of Soul/Ready To Go Home/Single Tonight/Walkin' Away/Can Anybody See You Tonight?/Untitled Bonus Track
"I'm following footsteps, been here before"
Released thirty-two years after 'The Graham Gouldman Thing', the bass player gets the award for the wittiest album title in this book even if it took far too long for him to make the record to go with that punchline. The record even comes with a rear sleeve parody of the first: Graham lined up against a wall, looking moody, while the song titles are written in graffitti! Like the first, this is a likeable collection of songs that are a ragbag of new compositions and re-recordings of material that got a bit left behind on other releases, the oldest of which is another crack at 'Heart Of Soul' and 'You Stole My Love' from The Mockingbirds days and the most recent of which is a re-recording of 'I'm Ready To Go Home' from 'Mirror Mirror' minus that album's production values (who cheered?) but with a horrific 21st century update of them instead (who booed?) Most of the songs are melodic pop, without the originality of early 10cc or the heartfulness of late 10cc or the noise of Wax and Graham's first writing style is clearly the one that still suits him best.
There are differences of course: there's no John Paul Jones on bass, no Peter Noone playing awol in the control room and the Graham Gouldman of 2000 is primarily known for performing old 10cc songs than as the craft songwriter everyone else wanted to beg, borrow or steal from. However this is, pretty much, a straight sequel and the first time Graham has sung a full album, to just a 'normal' guitar/bass/drums backing in all that time since. Judging by this album the long gap is a waste: Graham has never sounded better, his songs have never sounded lovelier and his backing band have never sounded more fitting; this record makes the touring 10cc look like amateurs – which is old because that's basically what this is with Rick Fenn and Mike Stevens playing most of the parts Graham doesn't. Even the co-writes with 'famous writers' isn't the ghastly mistake it usually is on these sorts of things, with each song mistakenly Gouldman in feel whatever the credits say. With its crystal-clear production, harmonies and updated older, wiser yet-still-mistakably-the-same sound, 'And Another Thing' is how both the 10cc reunion albums should have sounded like. Sometimes less really is more. 
The glories are surprisingly many for a man whose only written two full albums by himself before (one of them a film soundtrack with lots of instrumentals). The updated 'You Stole My Love' is as psychedelic as you can get with a small band and still sends shivers down the spine, even with a slower tempo and no Kevin Godley falsetto. We do however get an unexpected middle eight nicked from 'Schoolgirl', the aborted third Gouldman single for The Hollies as once recorded by The Mindbenders ('All is pure to the pure, all is pure to those in the grip of love'). The updated 'Heart Of Soul' is better still, swapping a slightly arch production for a direct emotional appeal that really suits the stripped-down arrangement given it here. As for the new songs, 'Walking With Angels' starts with backwards tape loops and just grows better still from there, an eerie song about trying to connect with someone missing from this life in theirs which is the result of either a sudden insight, a hallucination or one hell of a night out. Deeper than any Gouldman song since about 1981, it features one hell of a lead vocal. 'Dancing Days', a co-write with country writer Gary Burr, is a sweet memory of the first time Graham saw his future lover and the first time he saw all the personal characteristics he would come to love so much. The sad, solemn 'Just Another Day' is a 'Gouldman Thing' tale of a housewife walking out of her responsibilities and running away to embrace the new millennium ('1/1/2000 seemed a good day for it'). 'There Was A Day' is a sweet pop ballad that looks at the passing times in the music scene that starts off well before it turns into a 'list' song that namechecks a whole load of Motown records. The song doesn't sound at all like I feared it would from the pre-release publicity that Graham had together with Suggs, lead singer of Madness, to write it (I felt sure that one was going to have ska-reggae overtones; actually this track is pure folk-rock). Similarly, 'Walkin' Away' is an upbeat pop sing about escapism bears more of Graham's touches than co-writer Gary Barlow's (thank God! Or thank Gouldman?) during the Take That writer's lowest commercial ebb (the pair also wrote 'Stronger' together, which is one of the few Barlow solo songs that doesn't sound as smug as you'd expect).
Only the re-make of 'Ready To Go Home' (which is a disappointment particularly as it should really suit this album's stripped-down feel and yet Graham and co jazz it up even more than the 'Mirror Mirror' version),  the awkward atonal-with-sleigh bells mixture 'Sometimes', the clichéd woe-is-me-ism of 'Single Tonight' and the aggressive blues-folk of 'Can Anybody See You Tonight?' (a you-betrayed-me-song with Dylan harmonica puffing) don't quite make the grade. Which isn't much really – even the first 'Graham Gouldman Thing' was patchier than that, while if you're a hardened 10cc collector then by this point you were more than used to sitting through half an hour of nonsense on Eric's and Godley-Creme's albums to get t the 'good stuff'. 'And Another Thing' is, along with Graham's 'Animalympics' and G-C's 'Freeze Frame' and a handful of pre-fame singles, the 10cc spin-off work that you really need to own. Oh and another thing – there's an unlisted bonus track that's 40 seconds of Graham's least favourite interview questions set to music ('What comes first, the music or the words? Do you still see Kev and Lol? Did you split amicably, you and the lads in 10cc? Where did you get your name from? Go and ask Jonathan King!') that's the only real 10cc comedy moment here, albeit tinged with an audible groan that's very real. Remind me not to ask Graham any of these if he ever starts a twitter account…
Wax "Bikini"
 (www.andrewgold.com, '2000')
Intro/Rock My World/Lazy Bones/Ha Ha Went The Clown/All Aboard/The Lie/Ginger's Bakery/Welcome To The Neighbourhood/Time Is On My Hands/Slow Down Live/Bug On The Cote D'azur/Dirty Love/13-4 Thing/Francesca Macgregor/People All Over The World/A Single Kiss/Chinese Backwards Music/Superman/You Found Out/Billiard Theme/Coffee Break/The Shadows Know/On The Waterfront/Take My Breath Away Please/The Last Time I Fell In Love/Somebody's Waiting/The Sixties/Bridge To Your Heart (Demo)/East Meets West-Laundromat/Francesca's Magnetic Moon/Lone Soldier
"Outside your protection I lost my direction I need your direction, oh-oh, you cured my affliction, you fixed my addictions, oh-oh"
Something tells me this collection of Wax cut-offs and outtakes only came out on Andrew Gold's website (and only years later as a CD) so that he could use the rather clever name. To be honest there aren't that many reasons to own it, with the Wax outtakes from their only two albums generally cut out for all the right reasons. What's a surprise, though, is just how much work went into these demos and discarded takes, with no less than 28 unreleased songs here (plus a demo, a live cover and a bit of oddball chat). A shame that seven of them last for less than a minute, but that's outtakes for you. That pretty much doubles the entire known Wax discography in one go, so it's a bit of a surprise that this album didn't make a much bigger splash than it did. The most interesting moments date right back to the beginning, in 1983, when 10cc had just split up and Graham was keen to re-connect with Andrew after his brief time leading the band. The likes of 'Ha Ha Went The Clown' suggests that the pair had got together for drug parties rather than music ones though, being the most surreal psychedelic 'song' (in truth more of an improvisation) of Gouldman's career, but do reveal a side of the band you'd never have known just from the two main albums. You'd never ever want to listen to it more than once, but just knowing it's there re-shapes your knowledge of everything else somehow and the whole set is a bit like that – interesting and revealing, rather than memorable or a lost classic.
There are a handful of songs on wax Bikini that should have survived the shaver the first time round though: 'The Lie' is a powerful pop song about betrayal (perhaps the Godley-Creme split?) that would have made a nice addition to 'Magnetic Heaven'; 'Dirty Love' is Graham singing a raunchy pop song that Andrew would normally have gone for; 'People All Over The World' ought to be the next 'Band Aid' single – though I'm not sure if that's a compliment or not; 'A Single Kiss' is pure Gold, in all the meanings of that expression, with a teenager's first love telling him more in seconds than books have in years and 'The Last Time I Fell In Love' is a beautiful Wax version of The Beach Boys.  Less essential are dippy synthesiser takes on the 'Superman' theme song, endless instrumentals that sound like 1980s elevator music; manager Harvey Lisberg trying to crack jokes and stoned sounding snippets of chat that make you wonder if our vision of Graham as the 'sensible' one in 10cc was right after all. You really don't need this album and even if you're a completist collector you'll feel a bit short-changed by all the fooling about, but treat it like a glorified bootleg and you might find a few things here.
"Good News: An Introduction To 10cc"
 (Mercury, September 2001)
Life Is A Minestrone/Channel Swimmer/Brand New Day/Good News/Flying Junk/Lazy Ways/Art For Art's Sake/Get It While You Can/I Wanna Rule The World/Don't Hang Up/People In Love/Hot To Trot/The Things We Do For Love/You've Got A Cold/Don't Squeeze Me Like Toothpaste/I'm So Laid Back Out I'm Laid Out/For You and I/Lifeline/Tokyo
"Something to begin with – well, that's easier said than done…"
The good news: at long last, a 10cc compilation that doesn't just feature the hits! The bad news: this compilation doesn't feature the best of the obscure stuff either, with few fans likely to take this rum collection of filler B-sides and lesser hits (and a curious emphasis on the 'Original Soundtrack Album' at the expense of all the others which still manages to miss out on the glories of 'Blackmail' and 'Second Sitting For The Last Supper') as the best of the band. As an 'introduction' it fails even more miserably, with casual acquaintances left scratching their head why nothing here sound like 'I'm Not In Love' or 'Dreadlock Holiday' and curious as to why there's nothing from the band's earliest and most talked about years here (the reason: they were recorded for a different record label and cost too much money). There's a regrettable lack of material from the later albums too: nothing past 'Bloody Tourists' and, despite what you may have read about the band's final days, that's a terrible shame. That said, in the days before the box set came out this was a good way of digging a little bit deeper without having to buy up all the different 10cccds out there and it's still a more affordable alternative even after the box set came out. There's also a rare and very 10ccish shot on the cover of the band standing round a chair rather than sitting in it (this looks better than it reads, actually!) Better still, all of the songs here at least in the right chronological order, which is more than any other 10cc compilation has ever been able to manage. However there's a point in the saggy middle of this compilation, round about the dirge-fest of 'People In Love' and the nonsense of 'Hot To Trot', where you begin to question whether 10cc were really as good as you once thought. The truth is they are and more, but you wouldn't necessarily know that from a compilation which probably put people off the band more than it turned people on.
"Dressed To Kill"
 (Universal, May 2002)
Life Is A Minestrone/Second Sitting For The Last Supper/The Film Of My Love/Good News/I'm Mandy Fly Me/I Wanna Rule The World/Rock 'n' Roll Lullaby/The Things We Do For Love/Honeymoon With B Troop/I Bought A Flat Guitar Tutor/Dreadlock Holiday/From Rochdale To Ocho Rios/Reds In My Bed/Dressed To Kill/Lovers Anonymous/Welcome To The World
"Bathing al fresco all her mystery is there on display"
A rather stylish alternative compilation that, from its sketched-in re-drawn front cover of a famous 10cc band photo to its track selection has a new way of looking at things which is a lot better than hearing  'Donna's Rubber Love Minestrone Dreadlocks' all over again. The premise is simple: we get three songs from each of the first four studio albums 10cc made for Mercury between 1975 and 1980 including, usually, the album's best known single but also two songs so obscure only true fans know about them, plus token B-side 'Good News'. Unfortunately not all these choices are successful – passing over 'Un Nuit En Paris' or 'Blackmail' in favour of The Film Of My Love' as selections from 'The Original Soundtrack' borders on unforgivable, while From Rochdale To Ocho Rios' and 'Lover's Anonymous' are amongst 10cc's weakest ever songs, not their best. Nice idea then, shame about the result but at least these tracks are in the 'proper' chronological order for once. Tracks from 'Ten Out Of Ten' (incredibly expensive on CD in 2002) and 'Windows In The Jungle' (yet to be released on CD in 2002) would also have been very welcome, especially as – yet again – this compilation has a lot of room left spare on the CD.  
"Strawberry Bubblegum"
 (Castle, '2003')
Saulsalito (Is The Place To Go) (Graham Gouldman and Ohio Express)/Come On Plane (Kevin Godley with Silver Fleet)/Tampa Florida (Peter Cowap)/Have You Ever Been To Georgia? (Graham Gouldman and Garden Odyssey)/Travelin' Man (Graham Gouldman and Tristan Airbus)/Crickets (Peter Cowap)/Susan's Tuba (Freddie and the Dreamers)/Today (Godley and Creme and Festival)/Umbopo (Godley and Creme and Doctor Father)/Safari (Peter Cowap)/Da Doo Ron Ron (Lol Creme and Grumble)/Joker (Graham Gouldman and Garden Odyssey)/Funky City (Manchester City Football Club)/Man With The Golden Gun (Peter Cowap)/When He Comes (Gouldman, Godley and Fighter Squadron)/ Roll On (Godley/Creme/Stewart/Doctor Father)/Wicked Melinda (Peter Cowap)/Willie Morgan (Graham Gouldman and Tristan Airbus)/Pig Bin And Gone (10cc as Grumble)/Warm Me (Stewart/Gouldman and Festival)/Oh Solomon (Peter Cowap)/Boys In Blue (Manchester City Football Club)/There Ain't No Umbopo (Godley and Creme and Crazy Elephant)/Santa Claus (Leslie Crowther) (Hidden Bonus Track)
"Every shade, marmalade, every hue"
That's the thing about bubblegum – it sticks to everything, for better or worse. Listening to this intriguing set of pre-10cc material (still the only one on the market barring the Hotlegs stuff, even though there's at least a five CD series in there somewhere) is a bit like a game of Where's Wally: you spend so much time trying to work out why certain bits sound familiar and what songs they later morphed into that you rather forget to enjoy the music for what it is. Admittedly sometimes what there is doesn't amount to much: as we explained in our earlier article which covered the complete (or nearest offer) pre-fame 10cc recordings the band were just trying to make money to keep their own Strawberry Studios in enough eight-track recording machines to survive another Winter and the band were making records for the American bubblegum corporation Kassenatz Katz or messing about with friends rather than preparing for stardom. And yet these primary school photos of where the band learnt their trade are revealing: Godley already sounds gorgeous, Gouldman has a knack for writing catchy memorable pop songs, Stewart is unusually quiet but his engineering feats across this record are a marvel and Creme is already adding the unhinged humour and the sense of danger that sparks the whole thing off. The ingredients are all there, plainly – what the band don't have yet is a direction or a style so they keep cutting backwards and forwards between inane mindnumbing pop (even for a record starring footballers 'Funky City' and 'Boys In Blue' by Man City are both horrendous), weird mindnumbing pop ('Umbopo' which is lightweight surrealism as well as a very good reason lightweight surrealism never became a popular genre), deeply disturbing min-dnumbing pop ('Pig Bin An Gone') and the odd nugget of pure gold (the best things here are Gouldman's solemn 'Travelin' Man', the re-make of Hotelgs' 'Today' and the second biggest hit on the record (after the footballing fiasco) 'Saulsalito Is The Place To Go', which despite being credited to The Ohio Express (which never was a 'band' in the rock and roll sense of the word) is really the start of all things 10cc and hilariously OTT given that the band were stuck in Stockport singing a song about a place they'd never been to!
There are a number of tracks here that only feature 10cc as backing artists – we didn't include these in our earlier list because, well, life is too short and these songs aren't exactly sweet but here's a quick rundown. Graham's friend Peter Cowap might have ended up in an alternate universe 10cc and the pair were close and while his gruff bluesy vocals don't always suit Graham's songs you can tell why the pair had such faith in each other. 'Crickets' is the most interesting of the many Cowap recordings on this compilation – you can hear 10cc more and – guess what – they're playing an early variation of reggae ten years before 'Dreadlock Holiday' made it de rigour for the later period band.  'Have You Ever Been To Georgia?' is a recording by Garden Odyssey of a Graham Gouldman song on which the band play and sing (Godley is the most audible) that's as dumb a song as Graham ever wrote, a clear re-write of 'Sausalito' without the fun. B-side 'The Joker' is better, but only in the way that 'Spice Up Your Life' is slightly less dumb than 'Wannabe'. 'Susan's Tuba' is a slightly desperate novelty song for fading fellow Mancunians Freddie And The Dreamers but the chorus 'If you've got the trouble, hubba bubba bubble' was hardly made for them or even 'You Were Made For Me'. I'm amazed Graham allowed this song through quality control, then and now. Finally, a hidden  bonus track featuring 10cc backing comedian Leslie Crowther on a Christmas song has to be heard to be believed and even then I think surely I must have just hallucinated it.
Overall, then, not that many recordings are truly that amazing in purely musical terms, but then neither are many pre-fame recordings by any of the AAA bands. What's special about 'Strawberry Bubblegum' is being able to hear so many of Eric, Kevin, Lol and (predominantly) Graham's least known works together without having to spend a fortune in second hand shops and keeping an eye on e-bay for them. If you're a 10cc fan then you have to own this album, even if you hate it and never play it – the set has the same collectors lure as The Beatles' Hamburg tapes and Quarrymen recordings, Pink Floyd's Syd Barratt blues songs and The Byrds' 'Pre-Flyte' best-seller but with the bonus of having been recorded in much better sound. You can learn a lot from this record and yet some things still remain a mystery – there are two contradictory songs about whether you can or cannot catch 'umbopos' for instance. I think I need a lie down…
Eric Stewart "Do Not Bend"
(Strawberry Studios, '2003')
You Can't Take It With You/A Friend In Need/The Gods Are Smiling/Fred and Dis-Audrey/I Will Love You Tomorrow/Sleeping With The Ghosts/Rapping' With Yvres/Norman Conquests II/No No Nettie/Mr Decadent/Do The Books/Set In Blancmange/A Human, Being/You Are Not Me
"Underneath the laughter the nightmare never dies!"
'Do Not Bend' is, as the title suggests, a curiously fragile LP. Released on Eric's own label named after 'his' studios, even 10cc fans didn't know this one was out and you can't help wonder if Eric wanted it that way with doubts about his muse and music. Eric has been away as a creative force for some time – barring the two unwanted and uncomfortable 10cc reunion albums he didn't want to make – and he sounds a little unsure of himself on this album which by and large sticks to songs that sound ever so slightly like old ones. Oddly so, considering that this album took five years of on-and-off work (longer than the entire time Godley-Creme were in 10cc) and yet it sounds like it took a little more than five minutes to come up with each of the songs. Even the cover sums this up – a rather off-putting close-up of a puddle. The album is almost as 'wet'.
This record is big on reggae and 10cc pop, but without any of the quirkiness or ideas by and large. For a time this album seemed the weakest in the 10cc catalogue, at least from the album's that Eric was involved with: bland, uninspired and repetitive with ugly synths dominating everything and Eric almost slur-singing his vocals. However this album is a 'grower' – repeated listens reveal a more interesting album than it seems on first appearance, with some interesting ideas and heartfelt lyrics hidden from view. Thankfully the album has a softer and kinder heart than Eric's songs for either 'Meanwhile…' or 'Mirror Mirror'. In a way this album is a sequel to Eric's deeper songs to 'Ten Out Of Ten' and 'Windows In The Jungle', which makes it better than the rockabilly 'escapism' of 'Frooty Rooties' right off. The difference is that this album isn't quite so heartfelt – it looks at the world through Eric's eyes again and finds it wanting, but there's less personal need for it to 'change' this time; the world is at is and it leaves Eric scratching his head rather than raging or wanting to turn the world onto the glories of love. You also have to get used to the similar sound of all these tracks, caused mainly by the fact that Eric plays everything here (even the simple, unsteady drums) – once you realise that Eric is at last being the ultimate one-band he always to be and the off-putting sterile album 'sound' makes more sense. This is a 'solo' record in the true meaning of the word, but it never takes the easy route and turns 'acoustic' and simple either.
There is a case to be made, though, that even if Eric doesn't need another musician as a partner then he still desperately needs one as a songwriter. There are good ideas in most of these songs but Eric just doesn't quite make the most of them – he needs a Gouldman middle eight, a Godley chorus or a Creme moment of manic silliness to bring out the best in these songs as even the best fall a little flat. There are good songs here though: 'A Human, Being' is a hilarious song about pigeon-holing and stereo-typing that's very 10cc, with Eric defining himself as all the things he's not ('I'm not weird, I'm not young, I'm not spin, I'm not spun!') and discussing his mixed family heritage; the aggressive 'Rappin' With Yves' is the most Eric-like thing here despite being a rap song that puts down rap ('I don't understand, it's all Greek to me!') that ought to be offensive but simply charms its way out of trouble; 'I Will Love You Tomorrow' is one of Eric's better reggae songs with a sweet lyric promising better times ahead; 'Sleeping With The Ghosts' merges a sleepy melody and an urgent lyric about trying to fight your way out of sadness and loss – in context it sounds a little like Eric's prep-talk to himself after so long away; best of all the poignant 'Set In Blancmange' has Eric kicking himself for taking the lover who once meant so much to him (on 'Windows' particularly) for granted and that things will be better than ever from now on, though even this falls apart a little with another reggae chorus and a bagpipe accompaniment of all things (apparently Eric even played this too though it sounds like the synth sort). Of course to get there you have to sit through 'The Gods Are Smiling' (another smug reggae song, just what the world didn't need!), 'Mr Decadent' (who is less a missing 'Mr Men' and more a second-rate Shakin' Stevens, who was already a kind of fifth-rate Elvis), the rather nasty 'Do The Books' (which basically says 'cheating on your taxes is OK and everybody does it! Maybe it'll be Google's next theme song?…) and 'No No Nettie' which makes the pointless Chet Atkins retro style of 'Frooty Rooties' sound like a good idea.
The end result is a bit of a mis-step. It's not that this album couldn't work, more that Eric cuts himself off from all the things that would have made this half-promising set of songs really great. Eric isn't the sort of writer who should work alone, however much he felt like it after years of coping with the Grahams, Kevins and Lols of this world; he needs the feedback and companionship and someone to take his ideas and make them greater; equally Eric is at his best polishing someone else's glimmer of brilliance. Eric only has about three styles for this record – reggae, uptempo pop and ballad – and none of the examples of any of these are up to past glories in any style. Where has the classic Eric Stewart eclecticism gone? Working with other musicians might have knocked off this album's rough edges too and made it sound less like the same man stuck in the same room for five days straight and adding five different parts and more like an exciting, energising band who want to be there. Eric is the ultimate team player, great on the harmonies and with guitar frills to die for, but on his own he's not a full band. You can understand why Eric doesn't want to sound like his 10cc comrades, but equally he doesn't seem to want to sound like 'himself' so there is none of his usual graceful, melodic vocals and even his guitar playing sounds more like poor Mark Knopfler than great Eric Stewart. Sorry to say 'Do Not Bend' is the work of a genius whose forgotten how great he was and by his own choice there's no one else hanging round the studio to tell him that.
More interesting, if you can get it, is the 'original' pressing of this album which came with a mini bonus disc featuring demos to five songs. Not the songs you'd expect either – rather than simply showcase songs from this album Eric reaches back to the past with his original versions of 'The Night The Stars Didn't Show' from 'Meanwhile…' (Eric sings it better than Kevin did, but it's still not great), two songs from 'Mirror Mirror' (a similar 'Code Of Silence' minus the sound effects and a very different 'Take This Woman' which is less silly than in Graham's hands), a 'demo' for 'I'm Not In Love' which is actually a re-creation of how Eric remembered singing the original 1974 tape that 'got lost' (it's nice, but clearly a lesser song without the effects and similar enough to the 1992 re-recording featured on 'Mirror Mirror') plus the highlight, an otherwise unreleased love song titled 'Shine' that's actually rather good and should have been a hit, not an outtake (it also includes the lovely Eric couplet 'People are foolish, bringing us pain, why do they try when they have nothing to gain?') Perhaps a full collection of Eric's demos and outtakes and session tapes along the lines of his partner's 'Wax Bikini' might have been a better bet?
"The Ultimate Collection"
 (Mercury, March 2005)
CD One: Donna/Rubber Bullets/The Dean and I/Wall Street Shuffle/SSSSSSSSSilly Love/Life Is A Minestrone/I'm Not In Love/Art For Art's Sake/I'm Mandy Fly Me/Lazy Ways/The Things We Do For Love/People In Love/Good Morning Judge/Dreadlock Holiday/The Anonymous Alcoholic
CD Two: Tokyo/Reds In My Bed/For You and I/It Doesn't Matter At All/One Two Five/Les Nouveaux Riches/Don't Turn Me Away/The Power Of Love/Memories/Run Away/24 Hours/Feel The Love (Oomachasooma)/Food For Thought/Welcome To Paradise/Woman In Love
CD Three (Godley/Creme and Wax): 5 O'Clock In The Morning/An Englishman In New York/Under Your Thumb/Wedding Bells/Cry/A Little Peace Of Heaven/Right Between The Eyes/A Bridge To Your Heart
"Ooh you made me love you! But you had me crawling up the wall…"
If this is the ultimate collection, I'd hate to see the penultimate collection. Three CDs which aren't exactly stuffed full of goodies manage to contain a mix of the common and the unnecessary: we almost get the full set of hits in order on the first disc (at last!) but then things get weird around the 'How Dare You!' mark and we suddenly get album tracks mixed in at random instead. Disc three is particularly disappointing – a half-hearted selection of Godley-Creme and Wax spin-offs that is as basic as they come without any of the more adventurous or near-hit selections (no 'Golden Boy' or 'Ball and Chain' for instance). Plus there's almost a full half of the disc waiting to be filled: were the Mindbenders, Mockingbirds, Frabjoy and Runciple Spoon and solo Eric and Graham songs too expensive? The set's crowning glory, though, is the second disc which rounds up an equal amount of songs from the overlooked 1978-1983 period, plus 1992's 'Meanwhile…'. Admittedly some of these, such as 'The Anonymous Alcoholic' and both 'Meanwhile' songs, are pretty awful. But the rest are majestic: 'Tokyo' and 'For You and I' from 'Bloody Tourists!' are the slower, more shimmery side of 10cc's song craft and all the more beautiful for it; 'Don't Turn Me Away' and 'memories' from 'Ten Out Of Ten' pack an emotional whallop; '24 Hours' and 'Feel The Love' are solid choices from 'Windows In The Jungle' and there are extra marks for the (comparatively) rare non-album singles  'The Power Of Love' and 'Run Away'. Admittedly most of the first two discs of this set are available along with a whole lot more on the 'Tenology' box set from seven years later, but this is a cheaper alternative for those who don't want to or can't afford the full albums. Ultimate though? With so much missing? Hah!"The Complete UK Recordings 1972-1974″
(Varese Sarabande, March 2004)
CD One: Johnny Don't Do It/Sand In My Face/Donna/The Dean and I/Headline Hustler/Speed Kills/Rubber Bullets/The Hospital Song/Ships Don't Just Disappear In The Night (Do They?!?!?)/Fresh Air For My Mama/Hot Sun Rock/4% Of Something/Waterfall/Bee In My Bonnet/Donna (Alt Mix)/Johnny Don't Do It (Alt Mix)/Rubber Bullets (Alt Mix)/The Dean and I (Alt Mix)
CD Two: The Wall Street Shuffle/The Worst Band In The World/Hotel/Old Wild Men/Clockwork Creep/SSSSSSSSilly Love/Somewhere In Hollywood/Baron Samedi/The Sacro-Iliac/Oh Effendi/18 Carat Man Of Means/Gizmo My Way/Wall Street Shuffle (Alt Mix)/The Worst Band In The World (Alt Mix)
"We'll get a golden island in the sun made of coconut"
Complete is beautiful when you're a collector, so this set gets extra marks already – and yes, it really is complete in terms of recordings and songs with an impressive collection of 'bonus' mixes from around the world (none of which actually sound all that different but hey ho, that's what you get for being a collector and asking for these things). 10cc were never the sort of band to unlock their vaults and air their half-washed linen in public so we were never going to have outtakes galore or anything amazing. Instead this is a nice set to go alongside the 'Collected' one Mercury released which will take you through the other albums after this all the way through to 'Bloody Tourists!' in 1978. The front cover could be better (Kevin Godley has never looked scarier!) but how else are you going to track down all the early singles and the complete relatively-hard-to-find first pair of albums without forking out a fortune for the box set (which even then doesn't feature these complete). Gizmo my way? Just for once, I am!
"Greatest Hits…and More!"
(Universal, November 2006)
CD One: Donna/Rubber Bullets/The Dean and I/Wall Street Shuffle/SSSSSSSilly Love/Life Is A Minestrone/I'm Not In Love/Art For Art's Sake/I'm Mandy Fly Me/The Things We Do For Love/Good Morning Judge/Dreadlock Holiday/Ready To Go Home/Cry/Neanderthal Man/Bridge To Your Heart
CD Two: Johnny Don't Do It/Old Wild Men/The Worst Band In The World/People In Love/Feel The Benefit (Parts 1 and 2 Only)/Don't Hang Up/Second Sitting For The Last Supper/Une Nuit En Paris/Under Your Thumb/Wedding Bells/A Groovy Kind Of Love/No Milk Today/Bus Stop/For Your Love/Heart Full Of Soul/beautifulloser.com/Son Of Man
"I'm ready to go home, to receive forgiveness for my sins"
Launched to great fanfare as the final word on 10cc and various spin-off groups, 'Greatest Hits…and More!' still felt a little underwhelming for all of its two hour running time. To be honest the set just seemed like a cheap way to cash on the Godley-Gouldman 'GG06' reunion while the duo worked out just what exactly to do with their material and a means of cashing in on the outside successes of Godley-Creme, The Mindbenders, Wax and Graham's success as an outside songwriter for other bands. This just sounds weird all jumbled together at the end of the second disc and not in a 'hey this is great! weird' way like some past 10cc recordings either – The Yardbirds, The Hollies, Herman's Hermits and Wax all did very different things to Graham's very different songs and while it's nice to see Gouldman getting a larger share of the money pot for once, 10cc was a democracy – perhaps the greatest musical democracy – and giving so much space to one member seems daft (especially as Eric had a much bigger success with The Mindbenders; where's 'It's Not Too Late' and 'The Letter' which were bigger hits than all of Graham's songs bar 'Bus Stop'?) Even the first 'hits' disc is questionable, skipping all the singles that came after 'Dreadlock Holiday' and for some reason including the Godley-Creme number 'Cry', Hotlegs' 'Neanderthal Man' and Wax's 'Bridge To Your Heart' at the end, even though strictly speaking 'Wedding Bells' 'Under Your Thumb' and 'A Groovy Kind Of Love' on disc two were bigger. Oh and just to rub things in, all fourteen minutes of 'Feel The Benefit' are included, but at the wrong speed to get the song over with quicker – that's like chopping off a few 'Nananas' at the end of 'Hey Jude' and hoping no one would notice; sacrilegious! As usual the shorter 'single' mixes of the likes of 'Rubber Bullets' and 'I'm Not In Love' are used too, which aren't half as good (and maybe a little over half as long) as the album versions. It's kinda nice that Universal bothered to tie so many strands of the 10cc story together, but what good is a history lesson when you tell it backwards, with triggers causes and main events all thrown together in one big pot? If life is a Minestrone then this compilation is a pot noodle – one made out of gourmet ingredients!
"The UK Records Singles Collection"
(7TS Records, '2007')
Donna/Hot Sun Rock/Johnny Don't Do It/4% Of Something/Rubber Bullets/Waterfall/The Dean and I/Bee In My Bonnet/The Worst Band In The World/18 Carat Man Of Means/Wall Street Shuffle/Gizmo My Way/SSSSSSSilly Love/The Sacro-Iliac
"Buy me and you play me and my plastic turns to gold…"
7TS (say it quickly) are a subsidiary of Cherry Red Records who pride themselves on re-releasing everything they can that's cheap and 'seventies'. Generally speaking they've bought up the rights to famous artists before they were famous or on the brink of becoming famous (or, occasionally, on the way down from being famous) before or after the bands in question won the accolade of recording for one of the industry's main record labels (who are way more expensive). The early 10cc recordings on the UK label are therefore an obvious candidate for a catalogue that also includes compilations of works by Showaddywaddy, The Drifters, Smokie and – briefly before events made paying for his back catalogue seem like a really bad idea – Gary Glitter. Most bands only made a single or two so these compilations ignore album tracks in favour of A and B sides, which is handy for 10cc in particular as most of their singles were brilliant (and not always heard in full on later compilations that have to pay for the privilege of 'borrowing' them) while the B-sides are quite rare (though as I seem to have said that for five compilations in a row now, it's slowly dawning on me that they aren't quite as rare as when I was growing up and trying to track the things down). This is a set that's better for the collector who owns a decent 10cc best-of already and so isn't fussed about not being able to hear 'I'm Not In Love' 'The Things We Do For Love' and 'Dreadlock Holiday'. What you do get, though, is a good second introduction to what 10cc were really about, with postmodernist humour ('The Worst Band In The World', which really should have been a hit), beautiful prog rock at its finest ('Waterfall'), classic sarcastic point-making pop ('Rubber Bullets') and smart parodies and put downs ('SSSSilly Love'). To get these you also have to sit through three minutes of 'Gizmo My Way' and the adherence to strict chronological order (at last!) means the set  ends awkwardly on the nothing-song 'Sacro-Iliac'. But no matter: if you can't get hold of the first two 10cc albums then this is a pretty neat alternative that includes just enough to whet your appetite without providing 'spoliers' to just how great the full 10cc catalogue is.
"The Best Of 10cc Live"
(Universal, June 2007)
I'm Not In Love/Dreadlock Holiday/I'm Mandy Fly Me/Art For Art's Sake/The Things We Do For Love/Good Morning Judge/The Wall Street Shuffle/Welcome To Paradise/Rubber Bullets/SSSSilly Love/Life Is A Minestrone
"Did somebody say there's a coup coming on?"
This compilation of live recordings – all taken from the 'Alive' tour of 1992 and so not really the best live 10cc at all, given that their catalogue includes 'The King Biscuit Flower Hour' and 'Live and Let Live' – doesn't really 'count', given that it was never released in the shops and was in fact given away free with The Daily Fail On Sunday (yes, I was ashamed to buy it too, I've never bought another one I can tell you. I was extra nice to minority groups, the unemployed and foreigners for the following week just to pay off the bad karma and I think it still got me). It is, however, the most exposure 10cc have probably had since 'Dreadlock Holiday' and I've had a few people who've been emailing me to ask me where this review is. We don't have many free CDs now and the concept seems so, well, early 21st century: why pay a newspaper to rip you off and give away your best recordings (and some others) for free when you can just get ripped off by iTunes and Youtube? Back in the day though this was valuable exposure, especially if you had a product that came 'cheap' – which the much re-issued 'Alive' concert tour CDs already had been. There are a few things that make this set better than buying up the two-disc original set though: it's shorter for one thing, though oddly longer than the full single disc set version that's out, while the selection of material is actually better than the 'official' single disc sets. The cover is an improvement too: instead of looking at a middle-aged band who look bored out of their minds we get the natty 21st century 10cc 'star' logo. It's about as close to offering 'value for money' as The Daily Mail franchise has ever managed.
"Collected"
(Universal, May 2008)
CD One: The Wall Street Shuffle/The Things We Do For Love/Good Morning Judge/Dreadlock Holiday/Marriage Bureau Rendezvous/Don't Turn Me Away/People In Love/I'm Mandy Fly Me/Feel The Love (Oomachasooma)/Don't Hang Up/It Doesn't Matter At All/For You and I/Lifeline/I'm Not In Love/I Hate To Eat Alone/Feel The Benefit
CD Two: Art For Art's Sake/Somewhere In Hollywood/Old Wild Men/Life's A Minestrone/You've Got A Cold/Tokyo/Reds In My Bed/From Rochdale To Ocho Rios/One Two Five/Food For Thought/Les Nouveaux Riches/Channel Swimmer/Run Away/Don't Squeeze Me Like Toothpaste/Woman In Love/Welcome To Paradise/Second Sitting For The Last Supper
CD Three: Donna/Rubber Bullets/The Dean and I/SSSSSSilly Love/Une Nuit En Paris (Parts 1 and 2 only)/Lazy Ways/5 O'Clock In The Morning/Sunburn/An Englishman In New York/Love's Not For Me/Memories/The Power Of Love/Under Your Thumb/Wedding Bells/24 Hours/Cry/Neanderthal Man
"Spin the wheel and take your chances and your number might just come up, though the odds may be in favour of the house…"
Like the front cover of 10cc albums dangling from music stands on the beach, this is a pretty and a pretty comprehensive set of 10cc material that's about to be washed away and forgotten once the 'Tenology' set arrives in 2012. Three discs could have been more generously packed and the running order is random bordering on nonsense (we end at the beginning with 'Neanderthal Man' shortly after zooming forward to 1985 and 'Cry'), but this is actually a pretty fair summary of not just the band's biggest material but a lot of their smallest, sweetest moments too. There's a generous selection of 'extra' material too in the shape of Hotlegs and Godley-Creme material, not to mention semi-rare B-sides and late period 10c recordings like 'The Power Of Love' and 'I Hate To Eat Alone' that normally get forgotten. While the set is still skewed towards the Mercury material, this is arguably the best 10cc set out there (bar 'Tenology') at providing an equal selection of both. If you can handle the crazy-paving way this set is laid out, this may well be the best – certainly the most 10ccish – best-of out there on the market.

"Clever Clogs"
(Proper Records '2008')

The Wall Street Shuffle/The Things We Do For Love/Good Morning Judge/I'm Mandy Fly Me/Life Is A Minestrone/Art For Art's Sake/Bus Stop/No Milk Today/For Your Love/Old Wild Men/SSSSSSSilly Love/Donna/The Dean and I/I'm Not In Love/Dreadlock Holiday/Ready To Go Home/Rubber Bullets

"They are broken men who lie low, waiting for miracles"

How many band members add up to make 10cc? The question has been debated hard and fast amongst the fan community, with Graham Gouldman continuing to use the band name after he and Eric Stewart went their separate ways. Technically speaking he is 10cc because he's the only person 'left' – but can one person really claim to represent an entire band? On the plus side, Graham teams up with a couple of the old band regulars from the old days who were let go only because Eric's car crash hit the band momentum so badly they couldn't sustain a six-piece anymore. Paul Burgess was the band's drummer between 1977 and 1980 and Rick Fenn the guitarist for a year less and it's good to hear both men again in support of Graham who sounds in particularly fine voice, along with multi-instrumentalist Mike Stevens. Few fans considered the band the equal of the line-ups that had gone before it, but if we couldn't have the 'proper' 10cc back then this was the next best thing and a welcome chance to hear Graham singing lead on all the songs, not just the ones he used to sing on. However, things get more difficult when record companies get involved and suddenly 'Clever Clogs' was being thrust at fans as a legitimate 10cc release, packaged without any mention of the fact that so much of the band simply wasn't here. People who hadn't realized any version of the band were still going were shocked at how raw and un-10ccish this CD/DVD live set sounded and this release got a pounding at the time, with the record company (the real 'clever clogs' behind all this) taking the worst beating.

However, if you can get over the fact that this isn't the band we all know and loved, then there's much to admire here – actually more than on the 'Alive Tour' set of 1993 that used the official name and featured Eric in the band too. Graham is in good voice and it's a welcome chance to hear songs like 'Good Morning Judge' and 'Ready To Go Home' not often played live. His middle run of 'songs for other people' is impressive too, with 'Bus Stop' 'No Milk Today' and 'For Your Love' a welcome additional trio. Better yet is the all-too-brief reunion with Kevin Godley for the first time since 1976, although alas the packaging made a bit too much of how big a role Kevin plays on this album – a crossover duet on 'Old Wild Men' is the only time you can really hear him. However, 10cc were always a studio band and even a band as tour-hardy as this one (perhaps especially a band as tour-hardy as this one) can't compete with the delight and excitement found in the studio curiosity of the albums. Much of this album falls flat, the two new singers never quite getting into character and you spend far too much of the album wishing that Graham would open his mouth again instead of handing so much of the setlist over to his newbie colleagues. Given the amount of genius album tracks featuring Graham's voice in the 10cc catalogue and outside, this is a complete waste. In the end the best thing about this album is Storm Thorgerson's very 10cc-ish cover (easily the best on a 10cc product since 1981), which features a pair of clogs with scientific equations written on them!

Eric Stewart "Vivre La Difference!"
(**, '2009')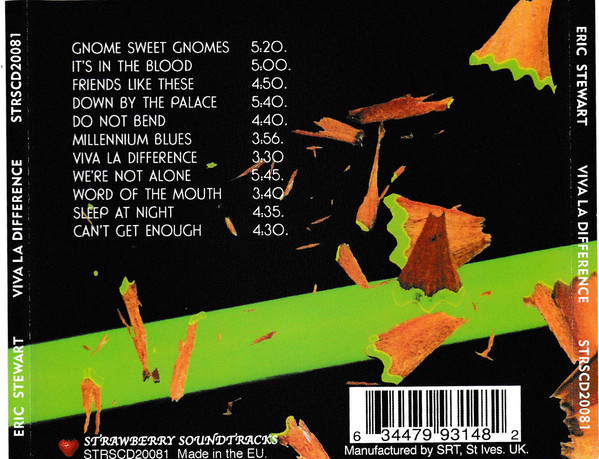 Gnome Sweet Gnome/It's In The Blood/Friends Like These/Down By The Palace/Do Not Bend/Millennium Blues/Vivre La Difference!/We're Not Alone/Word Of Mouth/Sleep At Night/Can't Get Enough

"Straight bananas are round the bend, when will all this madness end?"

Considering this record is named 'Vivre La Difference!' and contains a song celebrating how different people can be from one another, it's a shame that Eric's second solo record doesn't actually do anything that different. Don't get me wrong, what's here is done excellently and Eric's many fans who don't want him to change will have no complaints about the mixture of mid-range pop, romantic ballads and the odd quirky song about gnomes-masquerading-as-bankers. It's certainly an improvement on 'Do Not Bend' given that this album, well, bends – there are several tracks here that sounds as if Eric is stretching styles a little more including, naturally, a song titled 'Do Not Bend' (which wasn't finished in time for the album it was named after, very 10cc). The front cover too may well be the best on a 10cc-related project since 'Ten Out Of Ten', with a close-up of a pencil sharpener and shavings that seem at first to be something more important and creative making for a whole new way of looking at the world; even the smallest, most ordinary things can seem striking from a distance. That's sort of what this record is about: celebrating the uncelebrated, whether it's gnomes or the poor keeping the Royals in crown jewels and toothpicks.

Unfortunately this record often doesn't sound so much like a celebration as much as being whacked over the head with a big fat drumstick without mercy. The drums really should have been turned down a notch (or even a lot of notches): These are provided by this album's only other musician, Eric again choosing to go his own way, but actually Alain Mingerleas' playing is worse than Stewart's own. There's little here that matches up to the best of what Eric can do and the solo production yet again gives this album a similar feel all the way through so even the good songs get lost until you've played this album lots of times; frankly life is too short for that when you get knocked on the head with a drumstick every time you play it – I just haven't got enough headache tablets.

Thank goodness, then for this album's better moments which are nearly all the quieter ones. 'We're Not Alone' is a gorgeous eerie mid-tempo number about wanting to communicate with alien life that makes good use of not only Eric's gritty guitar but also a sea of backwards tape-loops; it's the single most psychedelic 10cc song since 'Frabjoy and The Runciple Spoon!'; 'Down By The palace' too makes good use of Eric's latest inevitable reggae riff with some groovy licks and a clever, cutting lyric that condemns inequality and wonders how the British Royal Family can sleep at night in their palace while people are surviving in cardboard boxes down the road ('Put them all in a council flat' jokes Eric, 'You know buddy they won't like that!'); the long awaited 'Do Not Bend' is worth waiting for too with its funky bass riff and swaggering piano-bass interplay and it's lyrics about standing your ground in a world of 'spin doctors' and cowards running away.

Once again though these are great moments that shine through, eventually, after a lot of listening and a lot of leeway (for the drums, mainly) – this is far from being as classic and all too often sees one of the bravest, greatest writers of his generation taking the easy route. Eric once came up with 'Windows In The Jungle' nearly single-handedly; here he's coasting and it's a shame. An improvement on 'Do Not Bend' admittedly, but the same rules apply: Eric needs someone else to work with – anybody else but the drummer please! (Sorry to be mean, I bet he's a talented individual in so many other ways and his family and community love him dearly who has all the right tastes like working with Eric and hating The Spice Girls; I'm afraid I can only review what I hear though and that's the problem, the drums are all I can hear!) Vivre la difference? Sadly just more of the same.

Graham Gouldman "Love and Work"
(Rosala Records, August 2012)

The Halls Of Rock and Roll/Daylight/Ariella/Then It's Gone/Let Me Dream Again/Lost In The Shadows Of Love/Battlefield/Cryin' Time Again/Any Day Now/Puttin' My Faith In Love/Black Gold/Memory Lane

"We panned for silver, sometimes we got gold"

After biding his time touring the world with his own brand of 10cc for a few years, Graham gets to cash in on the hoped-for big success of the long awaited 10cc box set. Only, this being 10cc, the set gets delayed so we actually get the cash-in first which is novel. Arranged to sound much like 'And Another Thing' this is another collection of Gouldman pop songs co-written with some big name friends – this time fellow Mancunian Ian Brown of The Stone Roses as well as various members of Graham's backing band. The end result isn't quite so successful or moving, partly because the songs aren't quite so strong but mainly because of the performances – Graham's voice isn't as lush and warm and often sounds strained, while the use of a bigger, heavier band doesn't suit his style as much as the 'unplugged' one an album or so before. Thematically, though, this album is much stronger and is more or less centered around the idea of the work-life balance. This gives lots of scope for a 'Windows In The Jungle' style debate over what really matters in life and why we waste so much time on other things, though Graham as usual is more character-based than autobiographical in his work. Many of the characters here sound as if they could have come from 'The Graham Gouldman Thing' as he turns his sights on despite that there's a highly personal thread running through 'Love and Work' which is clearly inspired by the loss of Andrew Gold at the criminally young age of 59 some 16 months before this album's release. The best song here, 'Daylight', is very much written in a style Graham knows his old musical partner would have liked (enthusiastic, breathless pop in other words) and is a great tribute to what they had in common ('Beatles in your head…you meant the world to me, wish that you were here to see daylight').It's Graham's best song for a long time and like his best work is from the heart as much as the head. 'Lost In The Shadows Of Love' is a nice sequel to an old Wax song too, which Andrew would no doubt have approved, the polar opposite of 'Daylight's search for sunshine. Other highlights on this album include 'Ariella' which is a very Eric Stewart song, wisecracking its way through both a love affair and the menu they ate on their first date ('I thought she'd order Korma but she was into something warmer!'), the post-split stiff upper lip talking to 'Battlefield' which is as catchy as they come and the plea for moving on after heartbreak 'Let Me Dream Again' ('The key is not to hi-i-i-i-i-i-i-de!') With the usual Gouldman hallmarks of catchy melodies and thoughtful lyrics, they're as good as anything in Graham's canon.
Unfortunately we also get a run of rather ordinary, forgettable songs -mainly from the album's second half – including the bossa nova 'Any Day Now' and the pointless Shadows-style instrumental 'Black Gold'. The opening 'Hall Of Rock and Roll', the Brown co-write, is also less a celebration of having lived long enough to be an icon and more impossibly smug, name-checking a few famous places for the hell of it. Most of the rest is just cozy, pipe-and-slippers kind of songs which the 1960s were designed to blow away – even if Gouldman was never quite the revolutionary, parent-taunting writer of his peers anyway ('The Graham Gouldman Thing' finds him almost respectful to his elders). With less of the surprises of 'And Another Thing' the record doesn't feel quite as substantial or as welcome, but the moments of love in 'Love and Work' really do work; as the album says it's finding that balance between the two that's a bit tricky. A couple of extra brilliant songs and this could have been great; even with so many filler tracks though it's still pretty good with 'Daylight' evidence that Graham's talents are still intact. Let's hope it isn't another decade before the next Gouldman CD…

"Tenology" (Box Set)
(Universal/Mercury, November 2012)

CD One: Donna/Johnny Don't Do It/Rubber Bullets/The Dean and I/Sand In My Face/Somewhere In Hollywood/The Worst Band In The World/Headline Hustler/The Wall Street Shuffle/SSSSSSSSSSSSSilly Love/Life Is A Minestrone/I'm Not In Love/Art For Art's Sake/I'm Mandy, Fly Me/Lazy Ways/The Things We Do For Love/Good Morning Judge/People In Love

CD Two: Dreadlock Holiday/Reds In My Bed/For You And I/One Two Five/From Rochdale To Ocho Rios/It Doesn't Matter At All/Les Nouveaux Riches/Don't Turn Me Away/The Power Of Love/Run Away/24 Hours/Oomachasooma (Feel The Love)/Woman In Love/Welcome To Paradise

CD Three: The Hospital Song/Fresh Air For My Mama/Clockwork Creep/Oh Effendi!/The Sacro-Illiac/Hotel/Old Wild Men/Une Nuit A Paris/Blackmail/Flying Junk/The Second Sitting For The Last Supper/Iceberg/I Wanna Rule The World/Rock and Roll Lullaby/Don't Hang Up!/Feel The Benefit/I Bought A Flat Guitar Tutor/Take These Chains

CD Four: Bee In My Bonnet/Hot Sun Rock/4% Of Something/Waterfall/Gismo My Way/Channel Swimmer/Good News/Get It While You Can/Hot To Trot/Don't Squeeze Me (Like Toothpaste)/I'm So Laid Back, I'm Laid Out/Nothing Can Move Me/People In Love (The Voodoo Boogie)/The Recording Of 'The Dean and I'

DVD Five: Rubber Bullets/Life Is A Minestrone/I'm Not In Love/Dreadlock Holiday (Top Of The Pops 1973-1978)/SSSSSSSSilly Love/The Wall Street Shuffle/Baron Samedi/Old Wild Men/Oh Effendi!/Fresh Air For My Mama/Rubber Bullets (BBC In Concert)/Fresh Air For My Mama/The Wall Street Shuffle (See You On Sunday)/Dreadlock Holiday (6-55 Special)/Runaway (Saturday Superstore)/Donna/I'm Not In Love/Art For Art's Sake/I'm Mandy, Fly Me/Good Morning Judge/People In Love/Dreadlock Holiday/One-Two-Five/Oomachasooma (Feel The Love)/Woman In Love (Music Videos)

 "All because of circumstances way beyond control, we became the darlings of this thing called rock and roll!"

10cc always tend to get over-looked when it comes to the big bands despite being one of the biggest selling and most consistent bands of the 1970s and their box set – delayed until their 40th anniversary – was long overdue for a band of their class. Given the long wait this box had to deliver a lot and – as so often happens on 10cc compilations it seems – this set half-delivers. As one of Hipgnosis' last commissions before the death of founder Storm Thorgerson, this set looks every bit as scrumptious as the band deserves and the special 'free' postcards that come with the set are a lot more 'special' and apt than the coasters given away at the same time with the similarly pricey Pink Floyd sets. The accompanying essay, which runs to somewhere around twice the length of one of our reviews, is a pretty good summary of a complicated band (even if they make the same old mistake of saying the band should have split when Godley and Creme left and condensing the 1978-1983 years – which are possibly the most interesting of all – into a single sentence). Other than that, though, packaging wise this set is fabulous and every bit as glossy and cerebral as you'd have hoped for. It's a fitting tribute to Thorgerson's talents as much as the band who were second only in terms of the Floyd to commisioning his front covers.
Things fall down slightly on the contents front though. Many fans complained about it, but actually the CD divides are quite 'sensible' and fitting for a band who tended to judge things by 'space' rather than 'time'. We get five discs in all: two dedicated to 'singles' (both hit and flop), one for (comparatively) rare 'B sides' (although it's not as complete as it thinks it is – where is '18 Carat Man Of Means'?!) a disc of 'album tracks' and a lengthy DVD full of music videos and TV appearances. All in all this gives a much broader sense of what 10cc were than any other set to date and or the first time features the UK and Mercury years together in the same bit of plastic, while the pair of 'singles' CDs feature several songs available on CD for the first time (including the delightful 'Runaway' and – at the time of release – the debut of several songs from 'Ten Out Of Ten' and 'Windows In The Jungle').  Condensing the reunion albums to just two songs also seems quite sensible, even if the set picks two lesser songs from the lesser 'Meanwhile' album instead of two of the better songs from the better 'Mirror Mirror' CD. The DVD is particularly enjoyable and it's a shame it isn't available separately given how few 10cc videos there are out there to buy.

However, there are many things wrong here which really should have been put right. This is really a Godley-Creme era set which only offers around half of what 10cc have to bring and the lack of space for the better songs from 'Bloody Tourists' and 'Windows In The Jungle' is galling given how many lesser gizmo-led instrumental B-sides you have to sit through. There's no room for 'real' rarities such as the classy B-side 'The Secret Life Of Henry' or the many live recordings that are out there and the Strawberry Studio vaults are chock-full of all sorts of things fans haven't even heard of yet. Box sets should always be judged by what they can offer which no other set on the market can and on that level 'Tenology' is s major disappointment: an original (even worse) version of 'People In Love' dating back to the last days of Godley and Creme and a fascinating but all too short extract of 10cc in the studio making 'The Dean and I'. Had the band included a full sixth disc of studio sessions like this the world would taken far more notice of this box set – unfortunately two unheard tracks just doesn't make up for the heavy price. The DVD could also have run for double the length, while some of the CDs have empty space that really could have been filled up with more gems – honestly, it's not like the 10cc catalogue has trouble filling a set this length, this box could have run for twice as long easily with no drop in quality at all. Not least because the few bad songs the band ever recorded (many of them B-sides, a few of them in the middle of the 'albums' compilations too) are all here too. In fact, for the price (around triple the 'collected' set which only misses the first two UK albums) it arguably should have run twice the length and included everything – Godley and Creme songs too.

A bit of a curate's egg of a box set this: parts of it are spot-on, others get things completely wrong; other things are passable. Not quite ten out of ten for 'Tenology' then, but at the same time this set is far from zero and deserved to do better for the band and their reputation than it did. New fans, though, are encouraged to buy the albums instead, which generally include the B-sides and rarities found on this set anyway. As it is this is an expensive way of getting a handful of rare songs and some gorgeous packaging when, surely, there will be a far more definitive box set dedicated to this most worthy of bands some day?

"Classic Album Selection"
(Mercury, October 2013)
CD One: The Original Soundtrack
CD Two: How Dare You!
CD Three: Deceptive Bends
CD Four: Bloody Tourists!
CDs Five and Six: Live and Let Live

"A clapperboard kiss, there's an Oscar in this, a hit or a miss – whatever!"

It's a conspiracy I tell you. Even in a box set full of the 10cc Mercury albums there still isn't room for the two best albums 'Ten Out Of Ten' and 'Windows In The Jungle' (both of which had to wait for their first CD release the following year) plus 'Look Hear' (which isn't much of a loss but had at least been out on CD by then and thus needed no work whatsoever). For what good reason? Why make this a 'selection' instead of the whole bang lot? Even if the albums didn't sell too well collectors would lap them up at this comparatively cheap price – even if they had to buy the earlier more famous sets again. Their ridiculous omission upsets an otherwise fine way of collecting the band's third-sixth studio albums plus the (relatively) rare double concert set 'Live And Let Live', starting with 'Un Nuit En Paris' and ending with a blistering encore of 'Modern Man Blues'. There are no bonus tracks outside the B-sides already available on the single CDs and only the basic paperwork but this is probably your cheapest means to buying around half of the 'core' albums mentioned in this book.

Godley/Creme "Cry: The Very Best Of"
(Spectrum, March 2014)

Under Your Thumb/Wedding Bells/5 O'Clock In The Morning/Sandwiches Of You/An Englishman In New York/Submarine/Wide Boy/Snack Attack/I Pity Inanimate Objects/Golden Boy/H.E.A.V.E.N.-A Little Piece Of Heaven/10,000 Angels/Lost Weekend/My Body The Car/Freeze Frame/Power Behind The Throne/Marciano/Cry

"Here comes the magic moment, one smile and you surrender"

'Cry' is how I feel about many 10cc-related compilations and yet this much-needed release – one I asked for in the early drafts of this website/book series – may well be the best one of the lot, finally getting things right by mixing all the singles and a few choice album cuts. Every album is represented – which already gives this set the edge over the earlier 'Images' – and while both sets offer quite a good flavor of what Godley-Creme were all about (an art school project that was meant to be studied more than it was heard, but by two men who hadn't forgotten how to right 'hits') this one may just have the edge in that too. Though the running order is just as jumbled (starting in 1981, going backwards to 1978 and ending up in 1988 before going back a step to 1985), it seems to have been made with more care than it's predecessor, with the punchy commercial songs everyone expects to hear gotten out of the way at the very start, no awkward 'parties' to break up the mood and a nice crescendo to 'Cry' at the end. Also flop single 'Golden Boy' is present and correct and sounds as good as anything better known on the rest of the set, alongside other gems neglected last time out such as '5 O'Clock In The Morning' and 'Freeze Frame'. Though some songs included on 'Images' are missing, thankfully the best of them are here too such as 'I Pity Inanimate Objects' 'Lost Weekend' and 'My Body The Car' (with 'Get Well Soon' the only song missing that deserved to be here too). Wow, so a record label releasing a 10cc compilation does know how to ease my pain after all. Let's hope that future 10cc and Wax sets are as worthy as this one!